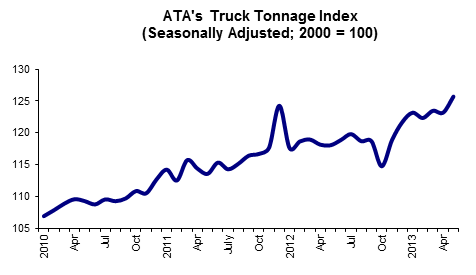 The monthly Truck Tonnage Index produced by the American Trucking Associations rose 2.3 percent in May to a reading of 126.0, the highest reading on record for the tonnage indicator, signaling a "skyrocket" in truck tonnage moved in the month, says ATA Chief Economist Bob Costello.
The 2.3 percent increase comes after a 0.2 percent fall in April. Compared to the same month last year, May's reading was up 6.7 percent. Year to date, the index is up 4.5 percent.
"After bouncing around in a fairly tight band during the previous three months, tonnage skyrocketed in May," Costello said.
Costello attributes the tonnage jump to increased factory output, stronger retail sales and a boost in housing starts. "While we heard good reports regarding freight levels during May, I have to admit I am a little surprised at the large gain in tonnage."
Though tonnage has increased, the number of loads is lagging some, due to the fact that heavier loads are seeing an uptick more than dry van-type freight, Costello said. Loads like construction materials and water for frac'ing are heavy freight, increasing tonnage but not the number of loads hauled.
The index is based off of responses from ATA members as to how much tonnage they hauled in the month, which includes submissions from both very large fleets and small fleets.