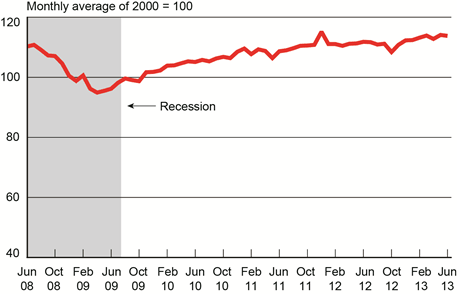 The for-hire transportation industry in June carried 0.2 percent less freight in June than in May, according to the Department of Transportation's Bureau of Transportation Statistics, driven mostly by drops in rail carloads and pipeline shipments, DOT says.
The DOT's monthly Freight Transportation Services Index, released Aug. 14, read 113.8 — 20 percent higher than April 2009's low in the most recent recession.
That number is 1.2 percent lower than the all-time high reached in December 2011.
Coal and grain were the weakest commodities for rail carloads, DOT says. Trucking, rail intermodal and water were stable, and air freight in the month grew.
Despite the month-over-month decline, the first six months of the year were all above the 2012's index range, the DOT reported, and freight shipments were up 1.4 percent year to date.
The Index, however, did fall in the second quarter from 2012's second quarter.