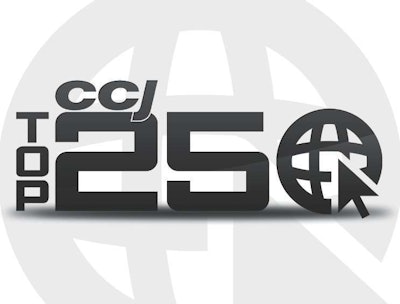 As always, CCJ in August recognizes the top 250 for-hire carriers operating in the United States, but there's one important group you might overlook: Owner-operators. CCJ's ranking methodology doesn't distinguish between owned capacity and leased capacity, so you might not notice the importance of independent contractors and their trucks. But the significance of owner-operators is apparent when you dig a bit deeper.
CCJ Top 250 is the most comprehensive ranking of carriers available. Visit CCJTop250.com to see the full report, along with a sortable data that includes revenues, number of trucks, tractors, trailers and drivers, and carriers by type of haul and geographic region.
In compiling the data that drives the ranking, we ask carriers to break out company drivers and independent contractor drivers. This year, about 160 of the 250 did so, and a bit more than 29 percent of their drivers are independent contractor drivers. Indeed, at least 26 carriers in the CCJ Top 250 use 1,000 or more independent contractor drivers. At least another 13 carriers use between 500 and 999 independent contractor drivers.
Among the carriers that did not provide detailed information on driver type, you can find clues in the portion of tractors listed as leased: About 31 percent. In the for-hire segment, a leased tractor usually is an independent contractor unit since trucking companies typically don't use traditional leases. There are cases where carriers will lease from an affiliated company, often for asset protection reasons, but that doesn't appear to be common in the CCJ Top 250 reporting.
So it seems that between a quarter and a third of the capacity operated by the CCJ Top 250 likely is provided by independent contractors. These are not all one- or two-truck owner-operators; at some of the major household goods operations, entire trucking companies – some of them fairly large – may operate as agents for a national brand. But even if you remove all of the household goods carriers from the calculation, the reported share of drivers that are independent contractors drops only slightly to just less than 27 percent. So the traditional concept of the "guy and his truck" apparently remains a big part of the capacity for the largest carriers.
Use of independent contractors is fairly concentrated. The 14 carriers reporting that they are 100 percent independent contractor drivers represent a third of all the independent contractor drivers among the roughly 160 carriers reporting detailed driver information. Meanwhile, 22 of the reporting carriers don't use independent contractors at all. Most carriers use either mostly owner-operators or very few; there isn't much middle ground. Only a quarter of the 160 carriers reported that more than 20 percent but fewer than 80 percent of their drivers were independent contractors.
The concentrated distribution of independent contractors among the largest carriers does not diminish their importance; capacity is capacity. When someone tries to argue that the owner-operator is dead, you can point out that he is all over the CCJ Top 250.
Click here to see in-depth analysis of the CCJ Top 250, and click here to see the rankings and to download the data.