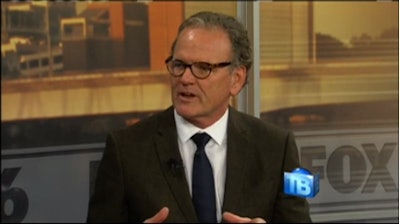 Lane Kidd, whose organizational skills and political acumen built the Arkansas Trucking Association into a model of state and federal influence, has left the organization he's led for more than 20 years to run his own public affairs firm.
"I've wanted to pursue my own projects for some time now and there are many opportunities out there, so this feels like a good time to say goodbye to the ATA," Kidd says. "My career as ATA president has been a phenomenal experience, and I'm handing the keys over with ATA looking much better than it did 22 years ago."
[youtube 4pqB_RNnAp4 nolink]
The Kidd Group LLC will operate in Washington, D.C. and Arkansas, providing business services in the transportation industry in line with Kidd's experience as an association president: corporate advocacy and public affairs strategies, media relations, corporate branding and publishing.
A familiar figure under the dome in Little Rock and on Capitol Hill, Kidd was also a leading player in the establishment of The Trucking Alliance, a group of carriers formed to push legislation and regulations aimed at universal adoption of electronic logging devices, a national truck driver drug and alcohol test clearinghouse and hair testing, among other issues. Kidd will continue to lead the alliance.
Kidd was also recently in the news defending his role in a class action settlement involving the Pilot Flying J fuel rebate scheme.
"During Lane's tenure, he has taken a relative unknown group of truckers and propelled us to the front of the line," said Gary Salisbury, chairman of the Arkansas Trucking Association and CEO of Hope, Ark.-based Fikes Truck Line. "The ATA is known across the country as a leader and an example for other associations to strive for. As chairman of the ATA, I speak for the board of directors when I say that Lane will be missed and we wish him success as he starts his newest pursuits."
In addition to Salisbury, a past chairman of the Truckload Carriers Association, that "unknown group of truckers" in Arkansas have been a key to the state association's influence. Current board members, according to the ATA website, include Steve Williams, chairman and CEO of Maverick USA (No. 84 in the CCJ Top 250) and a past chairman of the American Trucking Associations and Roy Slagle, president and CEO of ABF Freight System (No. 15 in the CCJ Top 250), along with a number of other CEOs and senior executives at publicly traded trucking companies and Arkansas-based global corporations such as J.B. Hunt Transport (No. 7 in the CCJ Top 250), P.A.M. Transportation Services Inc. (No. 53 in the CCJ Top 250), FedEx Freight, Walmart Transportation and Tyson Foods.
Vice President Shannon Samples Newton, who has run the ATA Self-insurers' Fund for workers' compensation claims, will lead the organization until a replacement is named – which will be "soon," according to Salisbury.