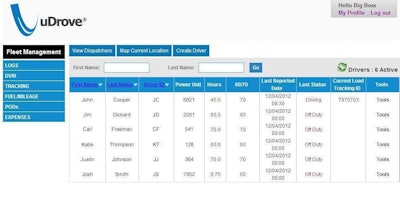 As the industry moves increasingly in the direction of ubiquitous electronic logging device use — and a federal mandate looms — uDrove has unveiled its uDrove Pro and uDrove Prime products for fleets and drivers to use for not only hours-of-service compliance, but for fleet and business management.
The uDrove Pro — the hardware component of the system — is a "plug and play" device that takes roughly five minutes to install, says uDrove General Manager Nick Reed. The unit plugs into the truck's diagnostic port and gathers roughly 180 points of data, Reed says.
The device has its own cellular modem so as not to require a separate smartphone or tablet with a wireless plan to transmit data. Some companies are installing uDrove Pro just for for tracking their vehicles and to capture state-by-state mileages for fuel taxes, Reed says, although it can be used for much more.
Installation simply means plugging the device into the engine diagnostics port. As such, it can be easily removed from one truck and transferred to another.
To let fleets and owner-operators make good use of the data available, uDrove has launched a newly designed website and data management dashboard for fleet managers to allow them to track trucks in real-time and see data on logs, mileage, inspections and delivery.
In correspondence with the uDrove Pro platform, the company has released a new smartphone and tablet app — uDrove Prime — to allow drivers to electronically manage their logs. The app, which is available on both the Apple and Android mobile platforms, synchronizes with the uDrove Pro device in the vehicle via Bluetooth wireless, allowing the logging app to detect vehicle movement to record driving time for hours-of-service. Drivers can set their duty status by touching a button and the app warns drivers when they're close to running out of hours.
The app also includes several key business management tools, as owner-operators can record proof of delivery with photos, record and submit driver vehicle inspection reports instantly (with the ability to take photos of any defects) and track spending by recording purchases in the app and taking photos of receipts. This information can be sent electronically to their accountant or service bureau for tax preparation.
Reed says uDrove Pro and uDrove Prime can be integrated with transportation management systems to automate driver messaging, load status updates and other two-way functions within the applications.