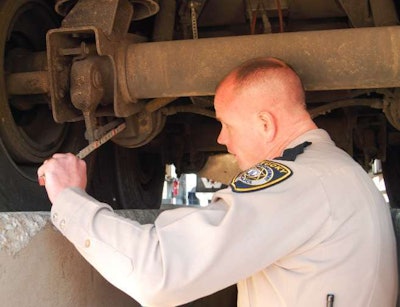 More than 30,000 brake inspections will be performed next week as the Commercial Vehicle Safety Alliance's annual Brake Safety Week begins Sunday, Sept. 8, and runs to Saturday, Sept. 14.
Inspectors from the Federal Motor Carrier Safety Administration and all CVSA jurisdictions will conduct tens of thousands of truck and bus inspections. During last year's Brake Week, 21,255 trucks and buses were inspected and one of seven of those were placed out-of-service, resulting in a 15.3 percent out-of-service rate. 2012's OOS rate was slightly higher than in 2011, 2010 and 2009, but lower than 2008 and 2007.
CVSA performs the enforcement blitz each fall as part of outreach campaigns, but performs a spring blitz unannounced.
The inspections next week will include visual inspection to look for loose or missing parts, air or hydraulic fluid leaks, worn linings or pads, drums, rotors or other faulty brake system components.
Antilock braking systems will also be checked, as will malfunction indicator lamps. Inspectors where appropriate will also visually inspect brake components and measure pushrod stroke.
For more information about the blitz, visit operationairbrake.com.