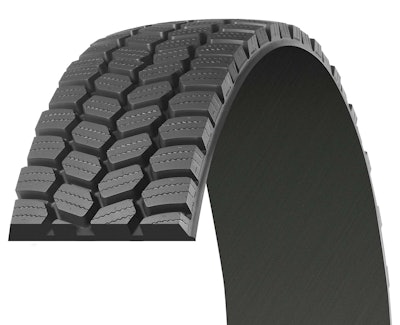 Michelin Retread Technologies today announced the launch of the Michelin XDS 2 Pre-Mold retread designed for year-round drive axle traction, with optimized features for challenging winter conditions. This next generation of exceptional traction comes with a 10 percent improvement in tread life over the XDS Pre-Mold.
"The MICHELIN XDS 2 Pre-Mold delivers traction for the life of the tread, and with a 10 percent improvement in tread life, this translates into maximum customer value," said Ted Becker, vice president of marketing for Michelin Americas Truck Tires, a division of Michelin North America, Inc. "Its ability to provide excellent snow, water and mud evacuation makes the XDS 2 the ideal retread for demanding and changing weather conditions."
The XDS 2 Pre-Mold, at 25/32nd of depth, offers exceptional traction delivered using deep sipes with zig-zag groove walls, along with V-shaped transverse shoulder grooves. These features provide biting edges for full life traction, as well as excellent evacuation of snow, stone and mud. The tread life improvement results from an engineered tread compound that delivers wear resistance in high scrub applications, a wide contact patch for force distribution, and a directional tread that reduces heal/toe wear.