The long Labor Day weekend to start the month slowed U.S. intermodal rail traffic just enough to prevent September from being the busiest single month ever.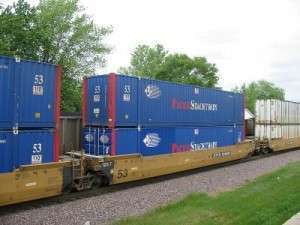 Still, the weekly average of 256,881 intermodal units in September was the second-highest monthly average of any month in history, the Association of American Railroads (AAR) reported Oct. 3. Intermodal came on strong strong after the holiday, posting the three highest-volume intermodal weeks in history.
Overall, both intermodal and carload volume increasing compared with September 2012. Intermodal traffic in September totaled 1,027,522 containers and trailers, up 4.4 percent, while carloads ticked 0.7 percent higher than in the same month last year, according to AAR.
Eleven of the 20 commodity categories tracked by the AAR each month saw year-over-year carload increases in September over the same month last year. Commodities with the biggest carload increases last month included crushed stone, sand, and gravel, up 10 percent; motor vehicles and parts, up 12.0 percent; and petroleum and petroleum products, up 10.4 percent.
Commodity categories with carload declines last month included coal, down 2.7 percent September 2012; and grain, down 11.3 percent.
Excluding the slip in coal and grain, U.S. carloads were up 4.9 percent in September.
"Those who follow the rail industry know that carloads of grain and coal can rise or fall by substantial amounts for reasons that have little or nothing to do with the state of the economy," said AAR Senior Vice President John T. Gray. "Not so with most other rail traffic categories, however. The fact that rail carloads excluding coal and grain were up 4.9 percent in September — the biggest year-over-year monthly gain since last December — is a hopeful sign."