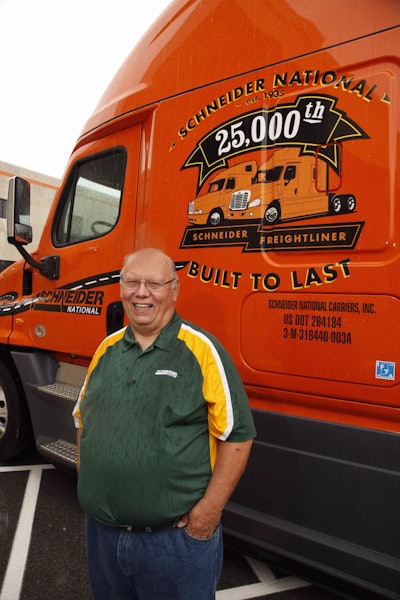 Few things say "thank you" like a big truck. Make it a big orange truck loaded with the latest technologies and driver features, and you've got reason to celebrate. Such was the case in Green Bay, Wis., today when representatives from Freightliner Trucks, a division of Daimler Trucks North America, paid a visit to customer Schneider National to personally deliver the 25,000th Schneider Freightliner truck to roll off the assembly line.
The relationship between the industry icons began when Schneider shifted gears in its equipment strategy in 1998, moving from cabover style tractors to a conventional design. Fifteen years and 25,000 trucks later, the relationship rolls on.
"Today we are pleased to congratulate Schneider for their achievement welcoming their 25,000th truck," said Mark Lampert, senior vice president, Daimler Trucks North America. "Freightliner and Schneider have a long history of collaboration based on a commitment to delivering innovations that are built to last."
Rob Reich, vice president of maintenance and driver recruitment for Schneider National, agreed that the Freightliner/Schneider relationship is unique. "Freightliner continues to be our provider of choice because of their consistent performance," states Reich. "Our decision to buy from Freightliner 15 years ago was driven by the need to work with a manufacturer that was as committed to innovation, driver comfort, safety and fuel economy as we are."
The truck, a one-of-a-kind Cascadia, is painted in the company's trademark orange color and has special decals celebrating the milestone. "When the order for the 25,000th truck came in, we knew it was important to come to Green Bay and say thank you, in person, to everyone in the organization," said Len Copeland, national account executive, Freightliner Trucks. "This Freightliner was built with pride especially for Schneider, and I can tell you it's had the orange glove treatment all the way down the assembly line."
Daimler Trucks North America's Steve Mignardi (director of national accounts), as well as Schneider's president and CEO Chris Lofgren and hundreds of Schneider associates, attended the event.
"Thank you for this new addition to our fleet, for the 24,999 previous trucks that have rolled off your production lines and for a tremendous track record of collaboration," Lofgren said during the ceremony. "Your carefully crafted tractors have literally powered our company for the last 15 years, enabling us to exceed both driver and customer expectations.
A Special Driver for a Special Truck
Sitting at the helm of the newest addition to the Schneider fleet will be Michael Darras, who has been a Schneider driver for 23 years. Darras was chosen because of his stellar safety and performance record – he has driven 3.3 million miles and more than 20 consecutive years without a preventable accident. The lifelong resident of Van Wert, Ohio, was thrilled to be selected.
"The first thing I thought when I saw the truck was, 'Wow,'" said Darras. "You can tell it got extra special treatment in production! It has so much more chrome than the other trucks I've had. I can already tell that it drives great and is very quiet."
Darras' first load in the new truck took him from Green Bay to Mountain Home, Ark.
About the 25,000th Schneider Freightliner Tractor
The truck is a fully equipped Cascadia Evolution, which represents the new standard of efficiency. Thanks to the latest aerodynamic technology, the newly designed Detroit DD15 engine and the just-released Detroit DT-12 automated transmission, it achieves up to a 7 percent improvement in fuel economy over Freightliner's first generation EPA 2010 model. The tractor is CARB clean-idle certified and features a custom-designed commemorative decal and chrome accents that are sure to turn heads at truck stops across North America.
Schneider tractor number 25,000 is equipped with the OnGuard collision mitigation system, roll-stability control, full six-sensor (all wheel end) anti-lock braking system, Predictive Cruise Control, a standard horn pad control system to keep the drivers' hands on the steering wheel and an Espar non-idling in-cab heater.