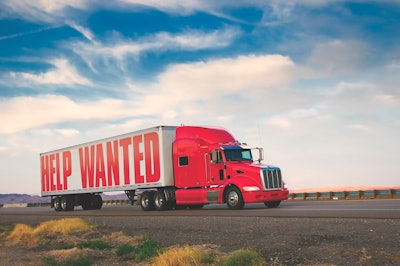 Note: This is the second part of a three-part series that will examine the trucking industry's driver shortage and the impact it is having and will have on fleets, shippers, drivers, rates, capacity and the industry as a whole. Click here to see Part 1, which is an introduction to the series and details how shippers are preparing for a capacity crunch.
The chosen few
Carriers already are seeing signs of a cyclical upswing, both the positive and the challenging.
Steve Williams, chief executive officer of Maverick USA (No. 84 in the CCJ Top 250), looks no further than his bottom line to know that the balance of transportation supply and demand again has shifted in favor of carriers, even if it's not a repeat of 2004.
"The capacity shortage is very real," says Williams, a former chairman of the American Trucking Associations. "But now I've got more business than I have drivers. The name of the game from here on out is recruiting, training and retention."
Maverick, a longtime flatbed carrier that has expanded by adding specialized glass and refrigerated divisions, is "almost back" to its pre-recession seated truck count.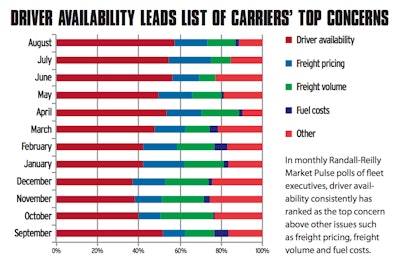 Williams calls 2012's turnover "normal" at 58 percent, which is well below the industry average for large truckload carriers – typically about 100 percent. Maverick also grew by 250 trucks, its best total for a year without an acquisition. Along with financial and safety performances that were "stellar," the year was the company's best ever for recruiting, he says.
By this summer, the fleet was reduced by 105 trucks, while turnover was up slightly. However, recruiting statistics are "unbelievably different," as Williams details.
Year-to-date in 2012: 16,316 leads processed, with 674 drivers hired; YTD 2013: 30,210 leads – or nearly double 2012's to-date total – yet only 559 hires, or 115 fewer.
"Frequency is up," he says. "More leads and more apps, but we're rejecting an unprecedented number for one reason or another."
Williams points out that Maverick is particularly cautious in its hires: The process includes hair follicle testing and sleep apnea screening. But Williams and Maverick have long advocated strict driver qualifications: Now other carriers must think twice, in the CSA environment, about looking the other way when it comes to new hires with spotty driving records.
"It's time to continue to make it difficult to get in this industry and stay in this industry," he says. "If you can't cut it, get out."
Given that the economy has not been robust, Williams says the growing supply/demand imbalance is capacity-driven.
"When we have little spot surges, like we've had in building materials, there are no trucks to haul it," he says. But a sustained shortage of equipment – one that will allow carriers to set consistently higher prices – has yet to emerge.
"There's a solution – pay drivers more money," Williams says. "That attracts better talent. But you can't have just one shipper that sees the light and gives you more money. You've got to have all the shippers see the light so you can raise your rates across all your lanes."
Other segments of the trucking industry face similar challenges in finding good drivers.
Many large truckload carriers likely would be quite pleased to have the 15 percent turnover rate that the less-than-truckload segment did in the first quarter – except that is the highest rate for LTL since the fourth quarter of 2005, according to ATA.
Marlin Kling, president of Midwest Motor Express (No. 219 in the CCJ Top 250) and chairman of ATA's Regional and Distribution Carriers Conference, attributes the typical low rate for LTL to the regional nature of the multiterminal delivery system: Drivers are home "practically daily," and the industry generally offers better benefits and a higher per-mile rate.
But the turnover rate does fluctuate, particularly among the local delivery drivers, depending on the economic situation in the communities where the terminals are located.
Being based in North Dakota, with the lowest unemployment in the country, poses some additional challenges.
"We compete not only with our peers, but with every truck service provider that works in the oil fields," says Kling, who also is the current chairman of the state trucking association. "In markets with higher unemployment, there tends to be a little more stability."
While the Bakken oil boom is an extreme case, MME terminals in Kansas City, Salt Lake City and Denver also are starting to see some driver shortages.
"Do we have excess applicants waiting in the wings?" Kling says. "I think LTL carriers would tell you 'no.' It's the combination of CSA regulations, heightened awareness of driver safety, drug testing, EOBRs, a whole lot of things that are an impediment to any LTL carrier finding drivers."
The LTL advantages and challenges are similar down South. Keith Heaton, senior vice president of operations at Southeastern Freight Lines (No. 29 in the CCJ Top 250), echoes Kling in citing better pay and benefits.
"LTL carriers also have a pool of local or city drivers to 'pull' the road drivers over from," Heaton says. "Among the challenges, we will sometimes ask a very small percentage of road drivers to work on a dock or run a city route as part of their job. This can be an advantage if the driver appreciates more time at home, but not all road drivers want to handle freight. On the balance, it's a good option for drivers to have."
Still, the shortage of qualified drivers is "very real" in the region, he adds.
And as with MME, the company must compete with the oil industry for drivers in Texas and Oklahoma.
"When oil production is up, they hire a lot of drivers at good pay, and when production slows, they no longer need all those drivers," Heaton says.