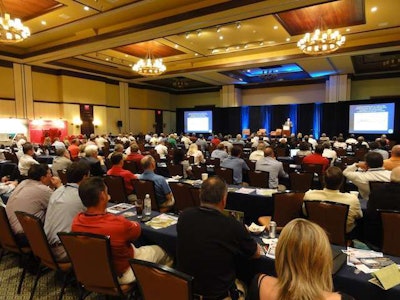 The CCJ Fall Symposium will host key supplier business meetings where attendees have the opportunity for an intimate and informal setting to talk with business partners about real issues, products, services and upcoming advancements in the suppliers' areas of expertise.
Attendees can sign up for three meetings with suppliers of their choice.
The Symposium will take place Dec. 2-4 at the Montelucia Resort & Spa in Scottsdale, Ariz. An early-bird registration rate of $395 is available through Nov. 1 and includes all sessions, hotel accommodations, meals and golf/spa activities.
Conservative talk radio host and Fox News contributor Laura Ingraham will give a keynote address to attendees, and sessions will be held on driver recruiting and retention, navigating trucking's regulatory environment, understanding CSA and future economic outlook.
Click here to register for the CCJ Fall Symposium or learn more about it.
Here is a highlight video from the 2012 Fall Symposium to give you a feel for the event:
[youtube BHxEgOrBK-I nolink]