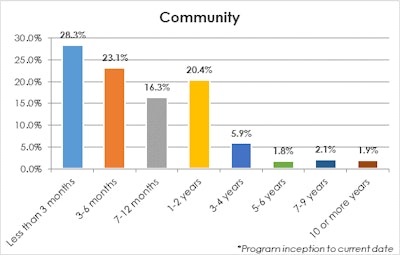 The trucking industry has always been plagued by turnover but it's the early kind that hurts the most. According to research by Stay Metrics, nearly a third of new drivers quit within the first three months.
The solution may seem obvious, like giving drivers more pay and respect. But despite motor carriers' best efforts in these and other areas, the problem persists and the costs are staggering.
Speaking at the ALK Technology Summit last May, J.B. Hunt's senior vice president, Richie Henderson, said the company expects to hire 11,000 drivers for turnover replacement this year alone at an average cost of $5,695 per driver.
With so much at stake, some large carriers are going to great lengths to find something — anything — they might have missed that could make a difference. Some even have behavior psychologists on their payroll.
Recently, Tim Hindes was on a conference call with executives from a very large motor carrier. On the line was the carrier's director of data. Hindes is the founder and chief executive of Stay Metrics. Also on the call was Dr. Timothy Judge, a professor of the Mendoza College of Business at Notre Dame.
Stay Metrics offers an online rewards program designed to build loyalty among drivers. The company combines this platform with driver satisfaction research it conducts on behalf of its clients through phone interviews and online surveys.
With 25 years of experience studying turnover, employee satisfaction and assessment, Judge is one of the 10 most-cited management researchers among all business schools worldwide.
"What do you do with the data? What is it telling you?" Judge asked the fleet's director of data. "We don't know" was the response.
This brief exchange was an illuminating moment for Hindes. A number of carriers survey their drivers in hopes of obtaining data they can use to predict which drivers are most likely to leave and why. In theory, proactive measures could be taken to reach these drivers and prevent early turnover, or perhaps know from the start what type of drivers are not likely to stay around for long.
In reality, carriers lack the in-house expertise and tools to research driver satisfaction and reach conclusions on their data.
Stay Metrics conducts an annual driver satisfaction survey on behalf of its clients. Designed with input from Judge and other experts in this field, the survey is 100 questions long. Out of all the drivers that start the survey 97 percent will complete it, Hindes says.
The company shares the survey results and conclusions with carriers to help make fact-based decisions. For instance, a carrier might find that 17 percent of its drivers are dissatisfied with pay. Does this mean the carrier needs to raise its pay to reduce turnover? Comparing the responses from drivers at one fleet to those from all fleets would indicate otherwise. Anything less than 23.5 percent is considered good, he says.
Stay Metrics recently named Dr. Judge as its own director of research. In this role he will be able to collaborate with other researchers in his field to help Stay Metrics better understand the issues confronting the trucking industry.
"Judge will be contributing to all aspects of Stay Metrics business, but his talents will be especially useful to work with large carriers who have much data but require assistance in applying cutting-edge analytics to improve satisfaction, safety and retention," Hindes says. "Everything he does is research based."
Stay Metrics is currently working on a large project with Judge to correlate the personality profiles of drivers with turnover and safety performance. The group has already completed the front end of the project by getting detailed personality profiles of 350 drivers. Each profile took one hour to complete.
The company also plans to match the personality profiles of drivers to retention and safety performance. The end result will be a profile that is predictive of which drivers will most likely be long-term and safe drivers based on their individual personality traits.
"We at Stay Metrics are just scratching the surface of what is out there," he says.