Everyone in the transportation industry with a smartphone or tablet has access to a very big and expanding universe of mobile applications. How big? There are more than 40,000 trucking-specific apps in the Google Play store alone.
If you can think of something that could help you as a motor carrier, broker, owner operator or driver work more efficiently and accurately, chances are there's an app for that.
Consider, for instance, a common frustration among carriers, brokers and drivers — the daily check call. The call is always the same, predictable question(s): "Where are you now? When do you expect to get there?" Or, perhaps some prefer a more abbreviated form: "What's your 20? What's your ETA?"
To automate check calls and other routine driver communications, asset-based carriers often spend more than $1,000 per truck for hardware and $50 a month in wireless costs to track loads and capture shipment information.
Today, any non-asset logistics provider or broker can get the same shipment tracking capabilities despite major differences in the technology used by contracted drivers and vehicles.
Instead of requiring drivers to call periodically to report load status and other details, a broker could send a text message straight to a driver's cell phone. The text includes a link to download a tracking app after the driver has accepted the load.
With the driver's permission, the company begins tracking. Location information flows from the driver's GPS-enabled phone or tablet to a website or directly to a transportation management software (TMS) system. The hardware or wireless service provider the driver uses is irrelevant; that's the advantage of a cloud-based computing environment.
This summer, Pegasus TransTech announced a partnership with Salebug.com to exclusively market its Load Track product under the Transflo brand name. Transflo Load Track is a free load tracking app for drivers and carriers that complements the Transflo Mobile app drivers use to capture images of paper documents to speed billing and payment processes. To use the Transflo Load Track app, all a driver needs is an iPhone, Android smartphone or tablet, and Overdrive's free Trucker Tools App which comes pre-loaded with Transflo Load Track.
When the driver is ready to begin the tracking process, he or she opens Trucker Tools, selects the Load Track app and touches a large "start" button. From that point on, the app automatically sends location data to the shipper or broker every five to 15 minutes. Despite the frequency of the communications, the driver hardly notices an impact.
"We have fine-tuned the process. Load Track doesn't use that much data," says Prasad Gollapalli, chief executive and founder of Salebug.com. The data usage for sending tracking information for five loads, with each track lasting for one day and a half, is equivalent to opening a Facebook mobile app one time. "We've also fine-tuned the app to not use much battery," he adds. "It stays in the background and only comes up when needed."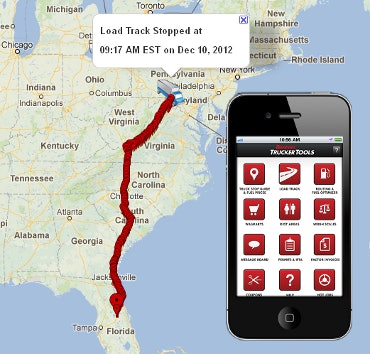 Drivers can push a "pause" button to stop the tracking for a specific period of time. They can also share tracking information with family members for free; the cost is paid by the broker: $1.00 per track from pickup to delivery.
Like many smartphone apps that use GPS data, Load Track has additional uses. The Trucker Tools app is used by more than 200,000 drivers for real-time fuel prices, turn-by-turn navigation and other needs. The opportunity exists within Trucker Tools to use the driver's location and route information from Load Track to automatically push information like coupons from truck stops along the route to drivers before they start their trip to avoid distractions.
Load Track is actually one of many low-cost tracking tools used by transportation companies. McLeod Software, one of the largest TMS providers for asset and non-asset transportation companies, is seeing growing demand from carriers and brokers wanting to integrate tracking information from these apps into its LoadMaster and PowerBroker systems.
McLeod currently has a working integration with MacroPoint which is used by more than a dozen of its clients for low-cost load tracking, says Robert Brothers, director of product development.
For more information on additional load tracking apps, see this roundup from Overdrive's senior editor Todd Dills.