Schneider National, one of the largest and most technologically advanced fleets, has developed an integrated learning model that consists of instructor-led, computer-based and simulation training.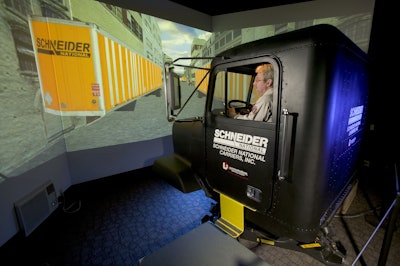 The integrated model enables the Green Bay, Wis.-based fleet (CCJ Top 250, no. 6) to deploy the most effective training to drivers at the lowest overall cost.
Schneider recently completed an integrated learning project to increase fuel economy and safety. The project was initiated by an analysis that found a correlation between fuel-efficient driving and safe driving, says Don Osterberg, senior vice president of safety and security. Drivers that exhibit aggressive behaviors like hard braking are also the most likely drivers to have poor fuel consumption.
Once the target list of drivers was identified, Schneider routed them into its network service centers. A simulation check ride captured drivers' mpg performance. Schneider has full-scale TranSim VS driver simulators from L-3 /D.P. Associates at each facility. Next, drivers viewed a computer based training model on fuel efficient driving and then repeated the simulation model.
Drivers saw an instant difference in their mpg performance, he says, by applying the tips and techniques they learned from the computer-based training.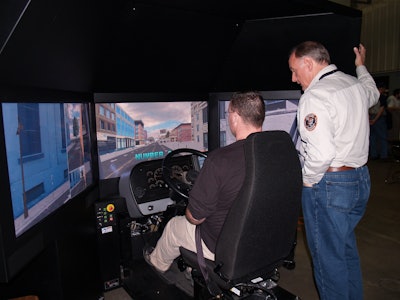 As another example of how the technology works, Schneider National's drivers complete an integrated training module if they have a low-severity crash incident or are cited for unsafe driving. The company used to assess these incidents as the driver having a skill deficiency.
It now uses technology to determine if the incident was skill or behavior related. Put simply, either the driver didn't know how to perform certain tasks or willfully chose not to.
A simulation check ride is used to preliminary assess skills versus behavior. The ride replicates the conditions of the incident the driver was involved in. If the driver succeeded in the check ride, the driver has the skill; the incident was therefore caused by a behavior issue.
The results of the test are mapped with the appropriate intervention — skills training, simulation, or computer based training. For a behavioral issue, the driver is assigned to complete programs that focus on decision making and asked to make a commitment to excellence.
"The days of one-size-fits-all training are over," Osterberg says. Customizing the training to meet the specific needs of each driver is where the success lies. "Technology enables us to do that more effectively."