Rather than purchase cameras and video editing software, Marten Transport, a large refrigerated carrier based in Mondovi, Wis. (CCJ Top 250, no. 46), contracted with ACS to create its own custom, Web-based training program. ACS calls the service TripPak Command Solutions.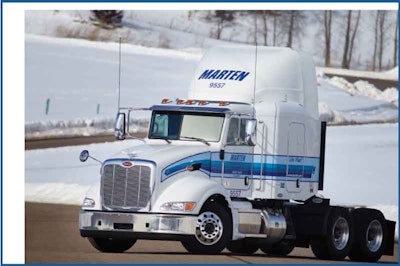 With this online training program, the 2,400-truck refrigerated carrier now has the same, consistent driver orientation process at six locations across the country.
The company's orientation program used to take two full days. Since using TripPak Command Solutions, Marten shaved one-half day from orientation and gets drivers on the road that much faster.
To create the online training modules for Marten, ACS films the same actress presenting scripts from content provided by safety, human resources and other departments. Presentations are filmed against a green screen so that graphical and visual cues can be added to draw drivers' attention to key points.
"We can add, subtract or change content easily," says Tim Norlin, director of recruiting. "If we decide to do orientation at another location, it is very easy to do. All it takes is a PC or laptop, and we're in business."
Each module is followed by a knowledge test. If drivers do not pass the test, they can review the video at any point and retake.
"It has been a tremendous help. When it is over, drivers know they received the proper orientation to be successful," he says.
Besides improving the orientation process, Web-based learning management systems (LMS), such as TripPak Command Solutions, can bridge the gap from the time drivers accept a job offer and arrive for orientation. A recruiter could email the driver a link and password to the LMS when giving the driver a contingent offer of employment. Once the driver logs in to On-Command Solutions, he or she would see a few courses assigned to them like a welcome video and introduction to the orientation training.
The recruiter could arrange to call the driver back once he or she completed the training to answer questions and schedule the driver in for orientation.
"The driver now has skin in the game and you've also identified how you are more flexible," says Mitch Hixon, vice president of sales for ACS.
< NEXT: Turn-the-key training>>