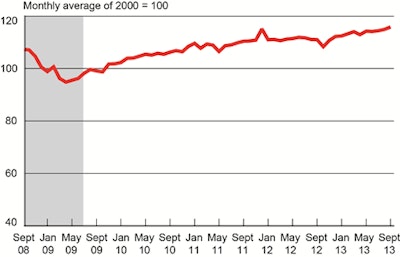 The for-hire transportation industry carried 0.8 percent more freight in September than August, marking the third consecutive monthly increase and the third straight month to hit an all-time high, according to the Department of Transportation's Bureau of Transportation Statistics' Freight Transportation Services Index.
The September index reading was 115.8 — up 7 percent in the 11 months following October 2012's dip. The reading was also up 22.1 percent from April 2009's low in the recession. Freight shipments in September 2013 were 4.3 percent higher than in September 2012, DOT data shows.
The September reading — and the three consecutive months of improvement — were in line with the growth in the U.S.' gross domestic product, which grew 2.8 percent in the quarter.
All modes of freight transportation grew in the month, DOT says, except for rail carloads, and the recovery growth since 2009 has produced growth in all segments except inland waterborne.
Every month in 2013, the Freight TSI has exceeded 2012's high point, and freight shipments are up 3.2 percent year to date compared to 2012.