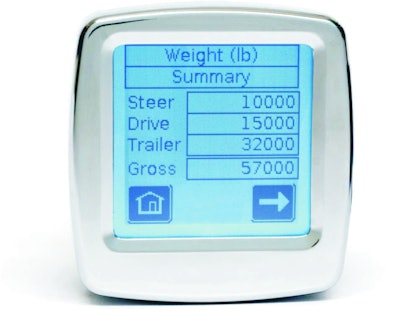 Right Weigh, Inc. has launched its first in-dash mounting, digital onboard load scale: the E-Z Weigh In-Dash Scale.
The E-Z Weigh In-Dash Scale is the latest addition to Right Weigh's digital line of onboard load scales for air suspension trucks and trailers. It is available in two models: one designed for dedicated truck/trailer sets and the other for a truck only.
The digital gauges measure and read on-ground weight in pounds and kilograms. They are intended to mount in the dash panel of a truck's cab in a standard 2 and 1/16th-inch gauge hole. The dedicated truck/trailer model displays the on-ground weight for the trailer and the truck's drive axles. It also shows an estimated steer and gross weight.
The truck scale displays the on-ground weight for a truck's drive axles, making it best suited for straight trucks or trucks that typically drop and hook.
The new in-dash design incorporates a simple two-point calibration process for each axle group being monitored. Weight readings are accurate to within 300 lbs or better per axle group, the company says. A large touchscreen with adjustable backlight helps drivers view weight information and navigate the calibration process.
"We were very intentional with the straightforward design of this scale," said Scott McCulloch, director of communications and international business development. "We recognize that fancy isn't always better, so we remained focused on designing a product that fits what our customers have come to expect from us: a scale that is simple to install, easy to use effectively, and is the best value on the market."
The two models retail at $325 for the truck model and $415 for the truck and trailer set. The E-Z Weigh In-Dash Digital onboard load scale is now available for purchase at over 300 dealers nationwide and by contacting Right Weigh directly.