In 1972, Don Hayden started working for the family business, M&M Cartage. The two things he enjoyed most in life were the two things he got paid to do: work for his dad and be around trucks.
"I must have had diesel fuel in my blood," he says.
By the late 1990s he was making the decisions. He become the chief executive officer in 2003. Today, diesel no longer fits into his plans for the company's future.
About four years ago, Hayden began looking into new developments for natural gas in the heavy duty, class 8 market.
"I started trying to learn all I could," he says. By the end of 2011 he was convinced that natural gas would be a viable option for the business.
The Louisville, Ken.-based company is a regional truckload carrier with 24/7 relay operations for dry van and flatbed freight. It has terminals in Louisville, Indianapolis, Cincinnati, and Morristown, Tenn.
The company began as a local, expedited hauler with two major groups of customers: commercial airlines and less-than-truckload carriers. Over time, it ceded its airfreight business to FedEx and pursued opportunities in truckload following deregulation in the early 1980s.
Today, Hayden wants M&M Cartage to be seen as a leader in green transportation. The company will be investing $7.5 million in building materials and capital equipment. Its new headquarters will have green efficiencies and its shipments will be moved by trucks powered by compressed natural gas (CNG).
The company's equipment strategy has been to overhaul engines and cab interiors at the 800,000 to one-million mile mark. The second life continues to 1.6 to 2 million miles. It replaces trucks at this point after about 10 years in service.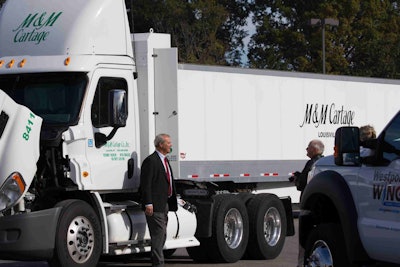 M&M operates a fleet of 170 trucks, 120 of which are model year 2006 and older. Every truck in this group is due for replacement by 2016. In late 2011, Hayden was running the numbers to devise a replacement strategy. He used the knowledge he had gathered about CNG equipment to do a comparative analysis. Even without receiving grants or financial assistance to subsidize the added cost, the numbers came out favorable for the alternative fuel.
"If my forecasts are right, there are some serious savings here and efficiencies," he recalls thinking at the time. "If that's the case, I've really got to pay attention and do more homework."
Hayden continued to visit with vehicle and engine manufactures. He also began meeting with a non-profit group, the Kentucky Clean Fuels Coalition, during this exploratory period. The group provided additional resources and assistance M&M Cartage needed to make natural gas fit within its overall operations.
As M&M Cartage became committed to CNG, Hayden remembers a colleague in the trucking industry asking if a customer was forcing this on him.
"Nobody is pushing us," he replied. "We are hoping to make ourselves more marketable and attractable. Our customers have the same desires and concerns."
Zero-waste operations
One day while Hayden was visiting the Peterbilt manufacturing plant in Denton, Tex., something other than natural gas captured his attention. The manufacturer takes pride in the plant being a zero-waste facility. All of the byproducts and waste from the manufacturing process were re-used and recycled. Even the paint sludge had a second life.
"How are they doing that?" he wondered. He thought about the two dumpsters at M&M Cartage filled with refuse from its office and maintenance garage.
Besides converting the fleet to natural gas, Hayden began creating plans to build a new green facility. The site selection process is now complete. Construction is set to begin in early 2014. By the time it opens in the third quarter of 2014, Hayden anticipates that everything will be in place to operate a zero waste, LEED (Leadership in Energy and Environmental Design)-certified facility.
Some of the planned features of the new property are a large retention basin for rainwater and solar panels to generate electricity for exterior lighting.
The new headquarters will have between 10,000 and 20,000 square feet of warehouse and cross dock space. It will be equipped and certified to maintain natural gas vehicles, he says.
M&M Cartage is working with Kentuckiana Clean Fuel to build a CNG station on site. The station is scheduled to open in the first quarter of 2014. Besides being a primary fueling location for its own fleet it will be open to the public with both fast and time-filled fuel lanes.
Today, the company is using two CNG fuel locations. One is located at Waste Management, Inc., at the Louisville landfill; the other is in Sellersburg, Ind.
As part of its green transformation, Hayden worked with the mayor's office and Kentucky Cabinet for Economic Development to create a tax incentive plan worth $800,000 to spur investment and create 45 new jobs by the end of 2015.
Some of the new employees will be drivers. The larger portion will be technicians whom the company plans to recruit and provide with training and certification to work on natural gas vehicles. Hayden also plans to create the position of "green captain." This person's job will be to stay informed and help execute on strategies to reduce waste and emissions.
Exploring all options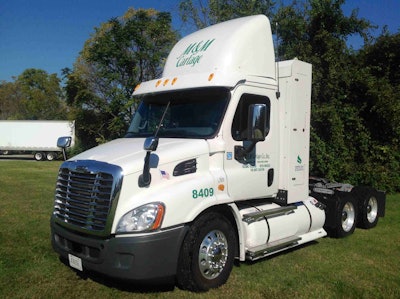 M&M Cartage placed its first CNG tractor into service in February, 2013. This Freightliner M2 had a 9-liter engine with 900 foot-pounds (ft.-lb.) of torque and an automatic transmission. It was one of the first CNG models available. The tractor had some limitations but M&M Cartage has been able to effectively use it on regular routes.
"The decision was all about trying to get ahead of curve," he says.
Next, M&M Cartage ordered 10 Freightliner Cascadias with the 12-liter Cummins Westport ISX12G engine and manual transmissions and 10 of the same trucks only with Allison automatic transmissions. These 20 trucks went into service in July.
As part of studying this latest batch of new equipment, M&M Cartage used two different fuel systems: a 100-gallon and 140-gallon tank. Doing this has helped the company learn how far it can extend the range of CNG vehicles by finding the sweet spots for terrain and payload.
M&M Cartage ordered another 20 Freightliner Cascadia trucks this year with 12-liter Cummins Westport 400-horsepower engines and manual transmissions. It also ordered 20 Cascadias with 10-speed Allison automatic transmissions. These 40 trucks are scheduled to enter service in Jan. 2014.
M&M Cartage will continue to replace its 120 trucks at the rate of 20 to 25 per year, Hayden says. Next year, M&M Cartage plans to order and take delivery of 20 more. Sometime in the near future, it will buy the Freightliner Cascadia with the sleeper option, he says.
In addition to fulfilling his duties as the CEO, Hayden hopes to serve on the executive committee of the Kentucky Clean Fuels Coalition to promote the use of alternative fuels in transportation. In this role he will be helping other carriers explore the benefits of natural gas. He believes the experience will also provide networking opportunities to work with like-minded shippers.
"For the path forward we will inspire our employees, customers, and anybody who comes across us. We want to make an impact on people who want to make changes," he says.
RESOURCES
1. For a breakdown of the difference between compressed natural gas (CNG) and liquified natural gas (LNG) read here.
2. Jack Roberts, CCJ equipment editor, provides a framework for how fleets can evaluate the options for using natural gas here.
3. Jack Roberts has a video demonstration of how a driver fuels a truck with LNG here
4. For a roundup of natural gas engines currently used in class-8 trucks, click here
5. For more information about the options and benefits of manual versus automated transmissions, see here.