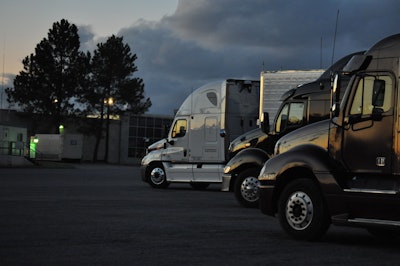 Multiple industry stakeholders, representing trucking fleets, owner-operators and brokers, testified before Congress Nov. 21 detailing how the recent hours-of-service rule changes have hurt their businesses and their overall quality of life.
After members of a House Small Business subcommittee spent an hour questioning Federal Motor Carrier Safety Administration Administrator Anne Ferro on the agency's methodology, timeline, data and general demeanor regarding the hours-of-service rules that went into effect July 1, the panel heard testimony from representatives from the American Trucking Associations, Owner-Operator and Independent Drivers Association and the Transportation Intermediaries Association.
Duane Long, chairman of Longistics in Research Triangle Park, N.C., spoke on behalf of ATA, voicing the group's support for the recently introduced TRUE Safety Act, which would delay the hours-of-service rule provisions until the Government Accountability Office can assess FMCSA's methodology.
Long said his fleet runs many teams, and their routines keep them on the road until 2 a.m. on Saturdays. Under the old rules, he said, they could take a restart and depart on their next trip Sunday evening and make a Monday morning delivery, per customer needs.
However, under the new restart provisions, his teams can't leave again until 5 a.m. Monday, making it impossible for them to meet both customer needs and expectations, he said. "They resent the intrusion of the government on their daily work routine," Long said. "They resent the new restart restrictions and the effect they are having on their ability to make a living."
Echoing what some of the House panel members said of Ferro and the administration, Long said in his testimony that FMCSA "offered rhetoric, but little data, to explain why the [2003] regulations needed to be changed."
Long also again brought to the committee's attention FMCSA used crash data that was more than 10 years old — a data quality issue some panel members used when speaking to Ferro to make a case against the rule's implementation. Since, he said, the number of crashes has fallen dramatically.
In addition to the anecdotal evidence of how the rules have affected his drivers, Long pulled out the survey data released last week by the American Transportation Research Institute — a division of ATA — to show the rules have decreased driver pay and miles while negatively impacting quality of life and increasing driver fatigue. (Click here to see CCJ's coverage of the ATRI release.)
Long also noted the rules could exacerbate the already worsening driver shortage fleets are battling. As driver productivity slips, he said, more drivers are now needed to haul the same amount of freight.
Fleets' ability to meet the needs of their customers has also taken a hit, Long said, as the provisions have taken away flexibility from drivers and fleets to deal with factors like weather and unanticipated detention time.
Owner-operator Tilden Curl also testified on the impact of the new rules on owner-operators and very small fleet operations, saying the rule takes away the flexibility drivers need to get the amount of rest they need while avoiding traffic and staying on schedule after delays caused by shippers or weather.
Curl spoke on behalf of OOIDA, saying it too supported passage of the TRUE Safety Act.
The hours rules, Curl said, have cost his one-truck business as much as $4,000-$5,000 a month so far. Many times, the new hours rule can leave drivers and owner-operators "in a constant Catch-22 situation," he said, having to "work to operate safely and efficiently." The hours-of-service rules don't provide enough flexibility for each driver to set a schedule that works best for his or her operation, fatigue level or freight schedule, he said.
Curl also pointed to unpaid detention as potentially a bigger issue for drivers than hours-of-service and an issue made much worse by the lost flexibility caused by the new regulations. CCJ sister site Overdrive has a full write-up on Curl's testimony — Click here to see it.
Here are highlights from others who testified at the hearing:
Brian Evans, owner of brokerage firm L&L Freight Services in Cabot, Ark.: Evans called the hours rule "a solution in search of a problem." He said the rules will have no effect on reducing accidents beyond the previous rules, calling them "overly complicated" and a knock to productivity. "We are not suggesting increased safety be traded for increased efficiency. We are stating that safety improvement was acheived under the old rules, and the new rules will not result in dramatically increased carrier safety," Evans said. He was there speaking on behalf of the Transportation Intermediaries Association, who, like the other trade organizations, was there to offer their support for the TRUE Safety Act.
Paul Jovanis, director of Transportation Operations Program at Penn State University's Larson Transportation Insitutute: Jovanis was the witness brought on behalf of safety groups and Rep. Grace Meng (D-N.Y.), ranking member of the subcommittee. Jovanis offered testimony saying several studies have shown lower crash risks correlated with at least 9 hours off duty, rest breaks while driving and driving during the day. Crash risks were elevated in the early morning — 4 a.m. to 6 a.m. — and from 4 p.m. to 10 p.m., he said. Another study showed elevated crash odds from 11 p.m. to 6 a.m., Jovanis said. An Australian study also showed self-reported fatigue for truck drivers was higher during night shifts than day shifts.