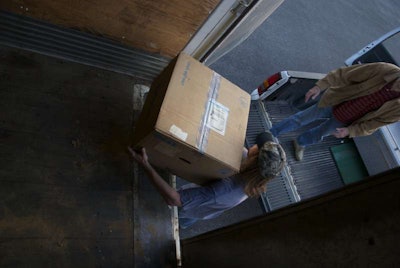 The number of cargo thefts in the U.S. from August to October fell 9 percent from the previous rolling quarter to 212, but the average value lost per load was $256,586, according to FreightWatch International, who releases a monthly report charting cargo theft activity in rolling quarters.
Food and drink loads (not including alcohol) were the most targeted loads, accounting for 46 (22 percent) of the thefts in the quarter. Products targeted, FreightWatch says, were meats, cereals, carbonated drinks and prepared foods.
Loads of electronics were the second most targeted, making up 14 percent of the load stolen with 29 thefts. Stolen loads of electronics consisted mostly of televisions, computers and computer accessories.
Miscellaneous freight made up 10 percent of the stolen loads, while home/garden loads and metals loads each accounted for 9 percent of the total.
Seven categories had fewer thefts than in the prior quarter, including significant drops in building/industrial, alcohol/tobacco and metals, FreightWatch says.
Once again, California, Texas, Florida, Illinois and Georgia were the Top 5 states for cargo thefts, accounting for nearly 75 percent of the incidents.
California alone accounted for 30 percent (64 thefts), while Texas made up 15 percent (32).
Thefts due to unsecured parking accounted for 106 incidents, 75 percent. Secured parking made up 13 percent (19 thefts), of the total.
Overwhelmingly, incidents involving trailer theft or container theft were the most common — 157 thefts, or 74 percent.
Thefts from the trailer or container comprised 8 percent of the thefts, 16 incidents. Driver theft made up 15 of the thefts, 7 percent.
Deceptive pickups (eight thefts), last-mile courier (seven), facility burglary (five), hijacking (three) and attempted hijacking (one) made up the remaining 11 percent.
Stolen loads of electronics averaged $1.1 million lost value per load — by far the highest. Clothing/shoes, No. 2 on the list, saw an average loss per load of $302,776. Pharmaceuticals — third highest average loss per incident — averaged $189,481.