Click here to see all coverage of the CCJ Symposium.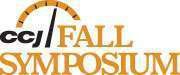 The CCJ Fall Symposium is underway in Scottsdale, Ariz., where speakers and panels are discussing key issues facing the trucking industry and fleets — "Obamacare," driver recruiting and retention, the economy, alternative fuels, CSA and other FMCSA regulations, fleet modernization and more — and how fleets can deal with each.
CCJ's staff is covering all of the events sessions live on Twitter, and in-depth coverage of each session is being posted on CCJdigital.com throughout the event.
To tune in to the event as it happens, follow @JackRobertsCCJ, @AaronHuffCCJ, @JeffCrisseeyCCJ and @llongton, along with @CCJnow, on Twitter.
To see all tweets from the event, search #CCJsymp.
Also, CCJ's daily newsletter will be filled each day with stories from the Symposium. Click here to subscribe.

Click here to see all articles from the CCJ Symposium.