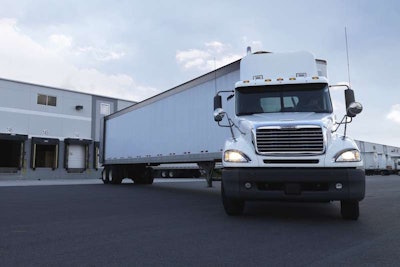 The monthly Trucking Conditions Index produced by FTR saw a 20 percent drop in November from October, down to 7.01, but even with the decline, the environment for trucking companies is still positive, the research firm reported this week.
Capacity has been squeezed by the "regulatory drag" of the hours-of-service rule implemented July 1, FTR says, but an improving economy has yet translate into "real market tightness," FTR says.
FTR's Jonathan Stark, director of transportation analysis, says the index still points to a "relatively healthy trucking environment," and that several indicators from recent months show 2014 make them bullish about 2014's prospects and carriers could raise rates if trends continue.
"Some of the recent data suggests a significantly tightening capacity situation in trucking," Starks said. "While some of the tightening is due to the storms that have plagued the U.S., it appears that the recovery in the manufacturing market, coupled with the hours-of-service regulations changes, are finally impacting the truck market as we have been predicting for several months. If this tightening continues it would be a significant boon for truckers, as they will finally have the ability to raise shipping rates."