Pegasus TransTech announced that Dick Lavy Trucking, a Bradford, Ohio-based truckload carrier, recently implemented Transflo Express and Transflo Mobile to gain same-day access to trip documents for speeding cash flow and increasing profits.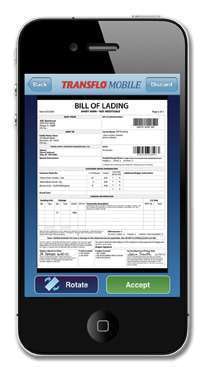 Dick Lavy Trucking operates more than 200 trucks and 500 dry-van trailers in its network to provide shippers with fast, reliable coverage throughout the eastern half of the United States.
After a brief evaluation period in December, 2013, the company decided to implement Transflo Express and Transflo Mobile to speed the flow of delivery documents to the office and improve efficiency for its billing and payroll processes.
Transflo Express and Transflo Mobile are available to drivers 24 hours a day, 7 days a week. Pegasus TransTech said that convenience is a key offering of these services as drivers can visit one of the more than 950 scan locations or use their smart phone to submit paperwork.
During the evaluation period, Erin Sargent, administrative assistant for Dick Lavy Trucking, tested the two products concurrently with a group of six drivers. Three drivers used Transflo Express and three used Transflo Mobile. Prior to using the scanning systems, the company's drivers were mailing trip documents or delivering them in person to the office.
"Drivers were ecstatic. They loved it," she says. "We knew right away that this is the way to go."
The benefits were also immediately clear in the office. "We got the documents right away and everything was accounted for," she adds. "We no longer needed to call drivers back to try and track down documents that were late or missing."
Ever since, Dick Lavy Trucking has been steadily increasing the number of drivers using the two Transflo products to improve driver satisfaction while accelerating cash flow by billing customers more quickly. Sargent says the office staff has already freed up time to focus on more productive activities now that its document scanning is taking place at truck stops, receiving docks and anywhere else drivers may be.
"We welcome Dick Lavy Trucking to the growing number of carriers using Transflo scanning services to receive critical documents the same day the load is delivered. Our customers have gone paperless to improve operating efficiency, speed cash flow, increase profit and drive consistent results," said Frank Adelman, president and CEO of Pegasus TransTech.