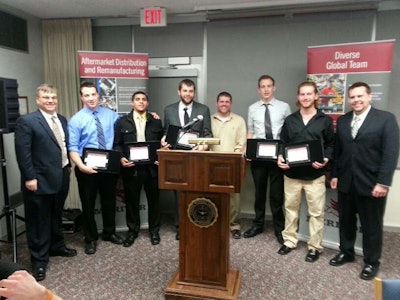 Meritor recognized the work of student teams from Central Michigan University (CMU) during the fall 2013 semester. Meritor leaders worked closely with 16 student teams from two senior-level marketing and logistics classes to analyze freight costs. Each team submitted reports to Meritor and Zac Williams, CMU associate professor of logistics and marketing.
"Through this partnership with CMU, students applied their classroom training to gain real-world experience by analyzing how we move freight," said Doug Wolma, general manager, Global Aftermarket Operations, Meritor. "The students looked at our business with fresh eyes," said Mark Brennan, director, Global SCM Solutions, Logistics and EU Packaging, Meritor. "We're always looking for innovative ways to approach the business and the cases presented by the students will be considered by our team for implementation."
Meritor recently presented first- and second-place awards during a banquet on the CMU campus in Mount Pleasant, Mich. Members of the first-place team were Matthew Brown, Christopher Humphreys, Vincent Meo and Matthew Scholtens.
"We emphasize active learning in our business classes at CMU," said Williams. "It doesn't get more applied than having real data to work with from a corporate partner in class. This was a unique opportunity. The students walked away with a valuable learning experience."
Meritor employees involved in this program included Mark Brennan, director, Global SCM Solutions, Logistics and EU Packaging; Mike Gimm, manager, Global Logistics and Transportation; Anissa King, manager, CMP Materials; Joe Pysh, material planner; and Tim Henige, corporate logistics engineer.
Meritor currently has co-op and internship opportunities available in its Troy, Mich. offices as well as other opportunities at its global locations. For more information, visit meritor.com.