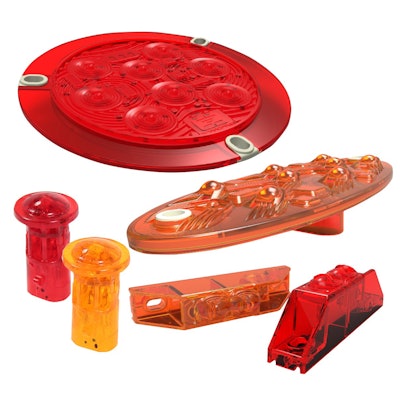 At a press conference at the American Trucking Association's annual Technology & Maintenance Council Conference, Phillips Industries announced a partnership to become the exclusive distributor of Innotec LED trailer lights in the commercial vehicle industry. The announcement marks Phillips' entry into the trailer LED lighting market. Innotec — whose BoardFree LED lights are currently available in the trailer OEM market — will be packaged with Phillips' Sta-Dry trailer harnesses.
Innotec uses an in-mold technology process that eliminates the need for a traditional printed circuit board resulting in an 0.26-inch thin light. According to Phillips, features of the lights include:
3D forming to direct light in various directions
Sealed components completely protected from environmental issues
Diodes directly mounted to circuitry to efficiently dissipate heat
Thin profile results in superior strength
The initial offerings for Phillips' distribution of trailer lights include front markers, side turn signal light, California side turn light, ABS light, license plage light, high-mount stop light, identification light and stop tail turn light. This initial program launch is for OEMs only, with a planned Aftermarket launch by June 2014. Phillips is offering a limited lifetime warranty of the LED lights.