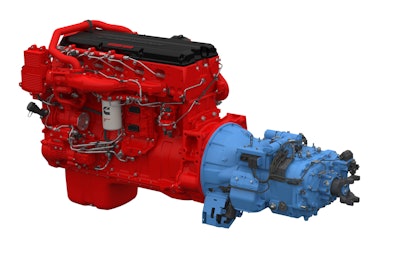 At a press conference at the American Trucking Association's annual Technology & Maintenance Council Conference in Nashville, Cummins and Eaton announced expansions to their integrated powertrain partnership announced last year that included the Cummins ISX15 diesel engine and the Eaton Fuller Advantage automated manual transmission.
Cummins's Lori Thompson, vice president of truck and bus OEM business, said the ISX12 diesel engine will be available with the SmartAdvantage powertrain in coming months and provide a 2 to 4 percent fuel economy savings. It will be offered as a small-ratio-step overdrive model with two new Cummins ISX12 SmartTorque2 ratings: the ISX12 370ST2, with torque of 1150 lb-ft to 1450 lb-ft, and the ISX12 425ST2, with torque of 1350 lb-ft to 1650 lb-ft.
"The latest SmartAdvantage Powertrain offerings are a natural extension of the initial product, and will provide customers with the fuel economy and productivity improvements they desire, along with a broad range of applications to meet their specific hauling needs."
John Beering, Senior Vice President and General Manager – Commercial Vehicle Transmission Business, Eaton, said the ISX15 SmartAdvantage soon will be available for 110,000-lb GVW applications later this year, primarily to serve heavy-haul customers in Canada.
In other news, the companies announced an integrated powertrain package for the Cummins Westport ISX12 G natural gas engine and Eaton UltraShift Plus automated transmission in the North American market. The new pairing will initially be available in regional and linehaul applications mid-year.