March diesel price swings continue to come in more lamb than lion: The national average diesel price climbed slightly, up a half-cent to $4.021 in the week ended March 10, according to the Department of Energy's Energy Information Administration.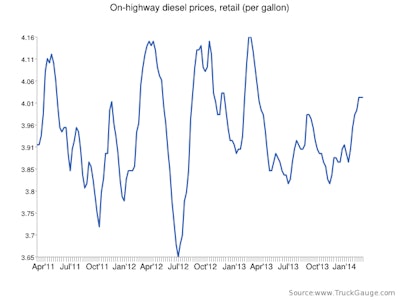 The upward tick followed the slightest of declines the week before – yet that downturn, though small, broke a five-week string of increases that sent the price of diesel 14.4 cents higher since early in the year and above the $4 mark for the first time since last March.
ProMiles' Fuel Surcharge Index reported this week a three-tenths of a cent drop, brining its reported national average to $3.964 a gallon, up 0.4 cents from last week and down 7.3 cents from a year ago.
Per the EIA, regional price changes were again split between up and down. The Gulf Coast region led all price increases with a 2.1-cent climb, followed by the Rocky Mountain region's 1.7-cent rise.
The New England region saw the biggest decrease with a 2.7-cent drop, while no other regional decline came in above a fraction of a cent.
Despite the drop, the New England region still has the country's most expensive diesel, $4.362, followed by the Central Atlantic's $4.353.
The Gulf Coast still has the U.S.' cheapest diesel, $3.814, followed by the West Coast's $3.96 (California not included).