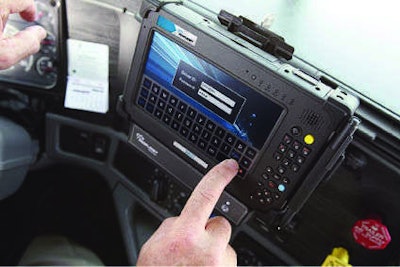 At the 76th annual Truckload Carriers Association's annual conference in Grapevine, Texas, PeopleNet announced an extension of its 12-year partnership with Mesilla Valley Transportation for its entire 1,100-vehicle fleet and a new partnership with Zimmerman Truck Lines.
"Over the past 12 years, we have taken advantage of PeopleNet's expanding driver and vehicle data to help us manage fuel economy," said Mike Kelley, MVT's director of information technology. "Mpg and safety go hand in hand in that this same information has been helpful in revving up our safety program and steadily lowering our CSA score."
As an industry leader in fuel economy performance, MVT was among the first to implement PeopleNet Vehicle Management with a sophisticated driver incentive program to improve mpg. The carrier has also converted its entire fleet to run on eDriver Logs to make its 1,400 drivers more efficient and improve safety performance.
"Driving behavior is the most critical factor in our safety program," said Wayne Miller, MVT's safety director. MVT uses onboard event reports from PeopleNet that provide real-time braking and sudden acceleration and deceleration events that indicate unsafe driving problems.
PeopleNet also announced Zimmerman Truck Lines is adopting PeopleNet technology for their entire dry van and flatbed fleets. "We'll be able to pull all available driver and vehicle data together from multiple sources faster and in a way that will let us leverage the most current advanced truck technologies and improve data accuracy, said Zimmerman's Dave Wetzler, dispatch manager/special projects Dave Wetzler. The company is also using Vusion's MPG analytics and fuel-tax application data to help improve fuel efficiency.
Zimmerman will also integrate PeopleNet with its TMW dispatch system for automating workflow with geofencing to improve driver efficiency.