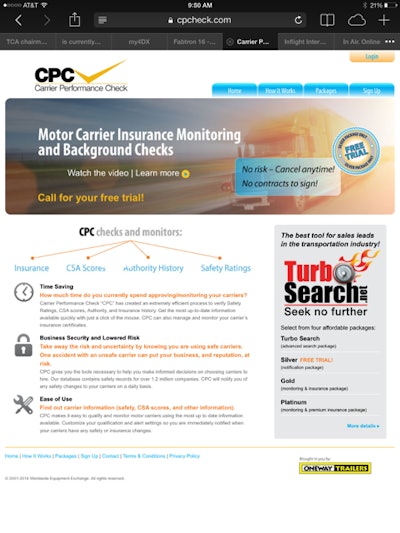 Carrier Performance Check (CPCheck) announced that the company has changed its name to Transportation Data Source (TDS), which will also be the name of both of its original two products: CPCheck and TurboSearch. The name change allows TDS to expand its monitoring and search features within the transportation industry.
TDS is a fleet search engine and database that provides an easy and efficient system to qualify and monitor fleets, access CSA scores, authority history, safety ratings, insurance information and certificates, create due diligence reports, CSV files and more. In addition, TDS provides a search function for companies looking for contact and demographic information on individual fleet operations across North America.
From verifying safety ratings and CSA scores to viewing and managing fleet insurance certificates, TDS says its tools help users make timely and informed decisions — and provide peace of mind. Users can customize qualification and alert settings to allow immediate notification when a fleet has any safety or insurance changes.
TDS says it has the largest database in the industry, containing over 1.8 million fleet contact records. Updated every 24 hours, the database enables companies to search for fleets by size and locations with street view maps, makes and models of equipment, commodities carried, equipment inspected, SmartWay and CARB TRU registered, CSA scores, FMCSA authority history, safety ratings, insurance information and more.
Available Services
Users can access data specific to fleets that includes but is not limited to the following:
Basic Search that allows users to search and view the entire database for various types of fleet information.
Advanced Search that gives users the ability to search FMCSA insurance information including effective and cancellation date ranges, authority status date ranges, filtering by insurance provider and more.
VIN search that includes roadside inspection details.
Fleet Monitoring that informs users of any safety violations and gives them the ability to monitor their fleets, providing daily notifications of changes to safety information, CSA scores and insurance based upon their preferences. API and Web Services are also available
Due Diligence Reports that allow users to easily create a PDF with all pertinent safety, insurance and authority information on each fleet.
Cargo Insurance Certificates that provide access to view effective and expiration dates, policy information and cancellation dates.
Custom Insurance Certificates that allow users to access and view personalized insurance certificates with customer named as certificate holder and any additional requirements on the certificate.
CSV Export that gives users ability to customize fields and export search results.
Transportation Leads List that allows users to acquire custom leads based on their needs.
"TDS is an asset that companies can use to search, monitor, insure and generate accurate fleet information," said Lyn Simon, president of TDS. "We are committed to evolving TDS' services, continually updating information and enabling our customers to easily customize their selections to make well-informed decisions."