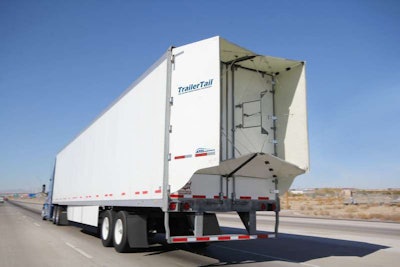 ATDynamics, maker of the TrailerTail rear drag aerodynamic device, announced it has partnered with Kentucky Trailer to make the TrailerTail Drop Frame a standard option on all of Kentucky's 2014 trailer orders.
The announcement came March 28 at the Mid-America Trucking Show in Louisville, Ky., where ATDynamics' Kyle Houston, head of North American sales, also announced that Frito Lay will get the first 89 Kentucky Trailer drop frame trailers to come off the line with TrailerTails installed.
ATDynamics' Drop Frame model tail actually improves fuel economy better than that of the standard 4-foot by 4-foot TrailerTail, as the Drop Frame model is about two and a half feet longer, increasing the surface area and better battling drag on the trailer's rear.
Houston says that for every 1,000 miles traveled, the Drop Frame model saves about 11 gallons of fuel.
Houston also reiterated the company's recent projections that 50,000 TrailerTails would be in use by the end of the year and 200,000 will be on the road by 2017.
Houston also said he expects the company's auto-deploy model, unveiled in October of last year, to account for 40 percent of its sales this year.
The auto-deploy TrailerTail automatically deploys at 35 mph, taking out the driver's role in its deployment. Houston said this helps assure fleet using the product that it as actually being used and not disregarded by drivers.