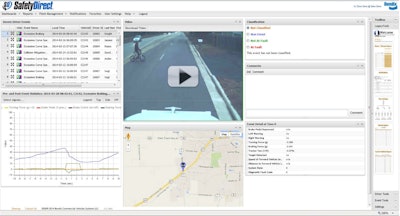 Bendix offers a Web portal called SafetyDirect that provides fleet operators with videos of severe events, along with feedback on fleet and driver performance. The system wirelessly transmits real-time video data and event-based information for analysis by fleet safety personnel.
Safety systems linked to SafetyDirect include Bendix Wingman Advanced – a collision mitigation technology; Bendix ESP, a full-stability system; AutoVue lane departure warning (LDW) from Bendix CVS; SmarTire tire pressure monitoring system (TPMS) by Bendix CVS and SmarTire Trailer-Link TPMS.
When a severe event is captured by SafetyDirect, a notification is delivered to designated fleet personnel on their smartphone, tablet or email. SafetyDirect captures and reports – with video clip included – event-based occurrences in numerous preset categories, including excessive curve speed, excessive braking and activation of on-board safety systems such as collision mitigation, and stability events.
These events are captured and stored with time and date indication, driver and vehicle ID, odometer reading, vehicle speed, and GPS location. The system also provides real-time driver performance information, such as following distance histograms and event counters for each driver.
Saia, a less-than-truckload carrier based in Johns Creek, Ga., is using SafetyDirect as part of its driver training program. All drivers that come to work for Saia are trained – or retrained, as the case may be – on the Smith System for defensive driving. And all drivers, regardless of experience, are recertified in the Smith System each year.
The training continues in the cab. Drivers receive immediate feedback and alerts from Bendix systems that monitor their spacing, lane departures, fuel efficiency and other safety and performance metrics. Saia also uses active safety systems such as adaptive cruise, collision mitigation and electronic stability control.
Last year, Saia conducted an experiment to evaluate the benefits of using Bendix Safety Direct with 20 drivers. As videos started arriving, management found that in nearly all cases, the incidents were caused by unsafe motorists, O'Dell says. Saia did not need to counsel a driver until after about five months of monitoring.
"(The video) demonstrates the professionalism of drivers," he says. "It also helps to increase our awareness of what they are looking at."
One detail that Saia has chosen not to capture as part of the investigation is video footage of the driver. Some fleets use video-based risk management systems that capture in-cab video to detect incidents where distracted driving might have played a factor.
"From a privacy and professionalism standpoint, we have decided to not do that," O'Dell says. "People are sensitive to that."
SafetyDirect allows fleets to set thresholds for high and low performance, displaying each driver's performance on a color-coded chart. This means fleet managers can determine trouble spots at a glance – many drivers taking curves at excessive speed, for example – and take steps to resolve them. Fleet managers can also compare the performance of drivers and groups of drivers over time, or monitor a particular driver's performance in different trucks.
Saia has built scorecards that are sent monthly to drivers that show how their performance compares with their peers for defensive driving. The scorecards are used to reward top performers and to identify drivers that need additional training or counseling.
Meritor WABCO