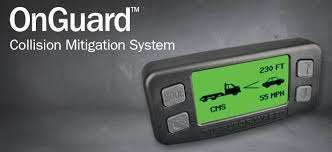 Meritor WABCO offers several types of integrated vehicle and driver safety products. Over time, the company's anti-lock braking system (ABS) has been installed on between 7.5 and 8 million tractors and trailers. Its Roll Stability Control system has been put in 250,000 vehicles since 2004 and about 50 percent of vehicles on the road today have it.
In 2008, the company released a new collision mitigation and adaptive cruise control system called OnGuard that today is in as many as 60,000 tractors. Overall, about 8 percent of tractors on the road have collision mitigation technology, says Jon Morrison, president and general manager.
OnGuard detects objects ahead and measures the vehicle's position in relation to others on the road to warn the driver of possible rear-end collision. When appropriate, the system will apply the brakes to help avoid or mitigate an unavoidable collision.
Meritor WABCO also has a forward-looking, vision-based lane departure warning system called OnLane. The system monitors the road markings and the vehicle's position in the lane and delivers audible warnings to the driver if the vehicle leaves its lane unintentionally.
Soon after releasing OnGuard in 2008, management of Meritor WABCO began thinking about how to round out its integrated safety systems with data and analytics. Historically, fleets using the Eaton Vorad product, for example, had to manually download data. In some cases, fleets started to transmit it wirelessly through onboard communication systems like Omnitracs and PeopleNet to monitor for risky driving behaviors.
Until this year, Meritor WABCO was primarily focused on vehicle electronics and mechanics, but that changed recently with the announcement of ProView. Its newest offering captures and transmits video-based event data to focus on the driver side as well, explains Morrison.
"In order to really get stronger acceptance and to round out the value offering of our integrated safety package, we thought this is a great direction for us to take," he said.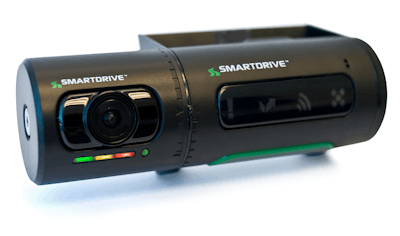 Meritor WABCO is working with SmartDrive Systems to develop ProView, which the company has billed as the commercial vehicle industry's most comprehensive and efficient performance management system. ProView integrates information from its braking and stability control technologies, for example, into a video-based event recording device and web-based driver risk management service.
By leveraging this information, fleet operators can gain insights into driving events to determine what happened, when and why vehicle safety systems engaged, and the potential root causes of safety-related incidents.
In practice, ProView will be a window that fleets will use to access the web-based SmartDrive portal. Behind the scenes, ProView will also have the full support of Meritor WABCO's service and sales team in the field.
In addition to providing a gateway to driver analytics through SmartDrive, ProView will have online content and resources to support the effective use of its integrated vehicle and driver safety systems. It will be a repository for social media and other forms of active dialogue between Meritor WABCO, fleets and drivers to help the end user, the driver, understand how these technologies work together.
"We want to be able to have a dialogue and be able to help in the training, education and acceptance of safety systems," he says.