Lytx offers an in-vehicle device called DriveCam that captures irregular events, which are reviewed and scored before being passed to the fleet for use in coaching drivers. Most of the data comes not from video recordings, but from the ECM, GPS and other sources, though the video is critical in interpreting and scoring the other data.
"What we try to do is improve driver skills," said Chris Silver, marketing director of Lytx. "One tool in that happens to be video."
Lytx has designed its online portal to weave a very complex stream of data into simple and straightforward visual workflow tools to assess and manage driver risk.
The latest portal, version 3.0, has new role-based user dashboards with customized key indicators, including a stack ranking of drivers according to their accident probability. Individual events are also ranked and displayed by severity in a "to do" list tied to a workflow that is designed to improve "coaching moments" with drivers.
Recently, the company announced that customers will have the option of rewarding high-performing drivers by turning off the in-cab camera, while leaving the forward-view camera operational. Even though the safest drivers rarely, if ever, trigger the in-cab camera by exhibiting unsafe behavior, such as hard braking, most drivers prefer driving without the possibility of it coming on, Silver said.
Other recent enhancements include:
*Flexibility for coaching risky drivers. One option will allow a fleet to administer self-taught videos. Another option allows for fleet managers to conduct remote coaching in conjunction with video. The material will be available through iPad, iPhone, and mobile communication systems.
* Carriers using a lane-departure system will be able to combine its data with Lytx data to help identify the root behaviors that correlate with lane departure and forward collisions. These results will open new opportunities for coaching drivers.
* Speeding in areas where speed limits are known will trigger video capture, "providing insight into not only the speeding event, but the greater context of the driver's behavior and surrounding environment," said the company's announcement.
* The company's RAIR Compliance Services integrated web-based system will enable fleets to improve CSA scores through management and analysis of driver logs, vehicle inspection reports, and driver qualifications.
Lytx has about 950 fleet clients, many of them private fleets and running Class 6-8 trucks, and others in other sectors, some outside of trucking, Silver said. Con-way Freight is the largest trucking fleet.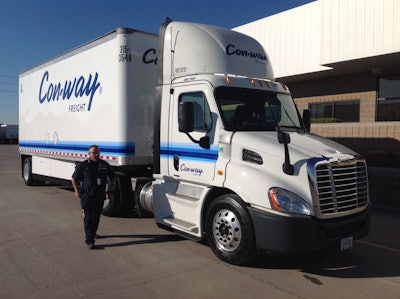 Every morning at about 5:00, Con-way driver trainer Jack Malloy enters an office to the side of the main dispatch area in the Salt Lake City service center.
Malloy has been driving for Con-way for 20 years. Three years ago he became a driver trainer, a job that he performs in addition to making daily pickup and deliveries. Con-way made a strategic decision to use its most safe and experienced drivers to coach other drivers using the data it receives from Lytx.
When an incident occurs, such as rapid deceleration or "hard braking," Malloy sees the event through the online management portal. He then notifies the driver's manager to schedule a face-to-face coaching session. Malloy says he usually talks to drivers within two days of an incident.
The coaching sessions don't always go smoothly. Sometimes drivers get defensive in these situations, Malloy says, but having a peer-to-peer discussion with a trainer certainly helps.
"Sometimes drivers are against new policies. They think corporations are after 'poor little me,'" Malloy says. "We disengage that tension so drivers are able to be coached and understand the situation. We're all peers."
The event recorder also gives Malloy opportunities to recognize drivers for defensive driving skills. Before having the technology, management never saw what drivers had done to avoid an accident, he says.
Six months ago, Malloy was meeting with drivers about 12 times per day to review incidents. The number of incidents has since dropped to about one to three per week.
Professional athletes and coaches use video and real-time data to identify performance techniques that can be improved, says Tom Clark, senior vice president of operations.
"We're doing the same thing with our professional drivers and how they operate our trucks," he notes. "It's a fundamental shift in our approach. Before we reacted after-the-fact, analyzing accidents and why they occurred. Now we've flipped the process, focusing instead on using technology and real-time information as a positive, proactive coaching experience to adjust behaviors, remove risk, prevent incidents and improve safety."
Meritor WABCO