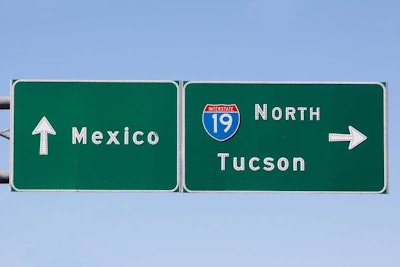 Mexican truckers unhappy with inspections, fines and treatment by inspectors are threatening to protest at Arizona border crossings with a traffic blockade, according to the Arizona Department of Transportation, who is pressing the Federal Motor Carrier Safety Administration to take action to resolve the issues.
ADOT made the initial warnings last Wednesday, but nothing has happened yet, says Laura Douglas, spokesperson for the state agency.
Truckers out of Nogales, Sonora (Mexico), and Nogales, Ariz., have been pushing for better treatment, ADOT says, citing "high number of inspections, high level of fines and high number of trucks placed out of service" by federal inspectors.
The fines and out-of-service orders are higher at Arizona border crossings than in crossings in Texas and California, ADOT says.
"While the Arizona Department of Transportation doesn't take a position on the merit of these grievances, the department is urging the Federal Motor Carrier Safety Administration to carefully consider these complaints and to resolve differences with the trucking industry to avoid a blockade," reads ADOT's April 16 warning.
FMCSA's Arizona division "has been engaged in dialogue with the Mexican carriers since March," said FMCSA spokesperson Marissa Padilla. "Our commitment to listen and continue to engage in discussions to reach common ground is paramount to ensuring the efficient and safe transportation of goods across the border."
ADOT's Douglas says her agency is not sure which crossings would be blocked, how many protestors there would be nor how long the blockade and protests would last, but she says her agency wants "both sides to continue their negotiations, so that a blockade can be avoided altogether."
ADOT calls the blockade threat a detriment to the growth in trade it has seen with Mexico in recent years, saying $14.1 billion in trade happens annually and that Mexico is "a critical partner" with the state.