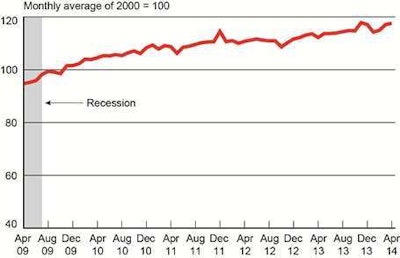 The amount of freight carried by the for-hire transportation industry rose 0.4 percent in April from March, rising for the third consecutive month, according to the U.S. Department of Transportation's Bureau of Transportation Statistics' Freight Transportation Services Index, released this week.
The number of shipments in April was the second highest ever, DOT says, and was just one-tenth of a percent below November 2013's all-time high of 117.8. The index in April read 117.6.
Shipments in the month were also up 4.8 percent from the same month last year.
March 2014's index reading was upwardly revised some, as were the readings for December and January.
The index measures month-to-month changes in freight shipments in tons and ton-miles.
The April increase was led by trucking and rail intermodal, the BTS says. The three months of increase follow a bottoming point in January that "was largely weather-related and affected the entire economy," BTS says in its report.
The index has increased 3 percent since. Compared to the all-time low in April 2009, the index has climbed 24 percent in the last 5 years.