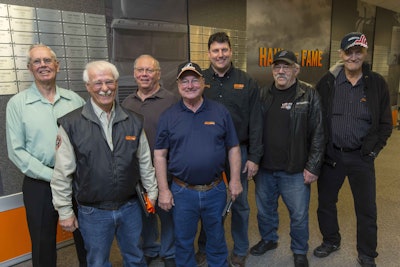 There's no better way to glorify the greats than a hall of fame. Football superstars are enshrined annually in Canton, Ohio. Mere miles away in Cleveland, rock and roll influencers and trendsetters are celebrated for their contributions to music. Now Schneider, one of the nation's largest truckload carriers, is following suit and honoring legends in the trucking industry. With the creation of the new Haul of Fame, Schneider has found a meaningful and visible way to pay respect to the best drivers on the road.
The exclusive honor will recognize drivers who have accumulated 3 million consecutive safe driving miles and/or twenty consecutive years of safe driving without an accident or safety infraction. The names and driving accomplishments of every driver inducted into the Haul of Fame are immortalized on plaques that line a prominent wall within the company's corporate headquarters in Green Bay, Wis.
"We have been honoring our best drivers for achieving safety milestones, including million mile and consecutive safe driving milestones, for a long time," notes Chris Lofgren, president and CEO of Schneider. "Now, with the Haul of Fame, we're going the extra mile. This is the Schneider way of recognizing driver associates who reached milestones in safety and excellence that very few in our industry have achieved. It's also tied to our #1 core value, Safety First and Always."
In late April, hundreds of Schneider associates witnessed the official unveiling of the Haul of Fame and the induction of its inaugural class of 179 drivers. Seven of the inducted drivers attended the event and helped ceremonially open the Haul of Fame by cutting an orange ribbon.
Ed Woald, who has been with Schneider for 30 years and has 3.2 million accident-free miles, was one of the drivers inducted and in attendance at the event. "Being at the ceremony meant a lot to me because I looked up to many of my peers who were also recognized, so I was honored to be a part of it," said Woald. "Our hard work doesn't go unnoticed."
Schneider expects to add 10 to 15 drivers to its Haul of Fame each year – an impressive number considering the high standard of criteria for inclusion. These new drivers will be recognized at the company's annual Million Mile Banquets, recognition events held at locations across the U.S. and Canada. In addition, each Haul of Fame inductee receives a duplicate copy of the plaque that bears their name and safe driving achievements.
"The industry standard for safe miles is 1 million," said Todd Jadin, Schneider's vice president of associate relations and talent management. "Clearly the drivers in our Haul of Fame have reached a level far beyond that, so we too were inspired to go above and beyond for this special group of people. The Haul of Fame distinction and tribute wall provides us the opportunity to shine a very bright spotlight on these incredible drivers."
A video showcasing Schneider's Haul of Fame, as well as interviews with several of the extraordinary drivers inducted in the inaugural class, can be viewed at https://youtu.be/tc1MnmpalvI