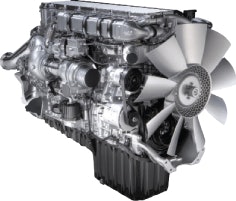 Less than seven years after introducing its groundbreaking Detroit DD15 engine, Detroit Diesel Corporation (Detroit) today marked the production of its 250,000th DD Series engine. The DD Series engines – which also includes the Detroit DD13 Detroit DD15 TC and Detroit DD16 engines – feature superior performance and power.
"When we unveiled our new heavy-duty engine platform in 2007, we anticipated our customers would benefit from greater efficiency and uptime," said Brad Williamson, manager, engine and component marketing for Daimler Trucks North America. "The achievements of our engines – most recently combining with the Cascadia Evolution to deliver a 7 percent improvement in fuel economy – have exceeded expectations."
Jointly developed by Daimler Trucks in Germany, Japan and the United States and featuring more than 90 percent globally shared parts, the DD Series heavy duty engine platform was the largest investment ever made in product development by an engine manufacturer.
"The DD Series engines were well-received by the market, outperforming the Series 60 engine in just the first year," said Williamson. "Our customers embraced the products and performance benefits the engines delivered."