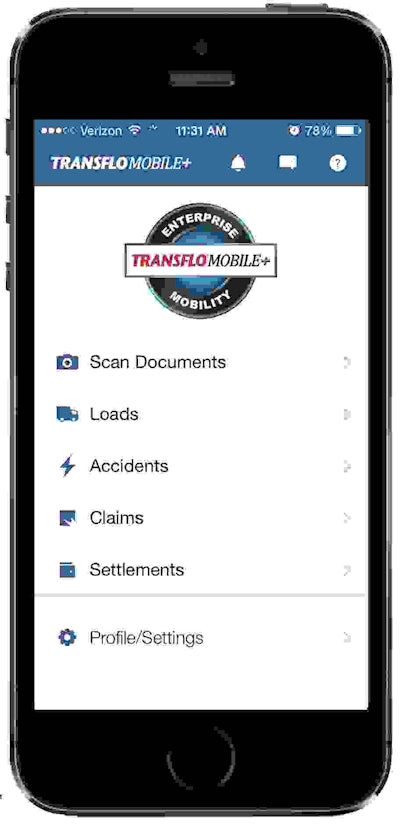 Pegasus TransTech announced the release of a new smartphone application, Transflo Mobile+, which will allow drivers to accept loads, update trip status, report accidents and claims, receive and send messages to their fleets as well as send delivery documents.
Transflo Mobile+ gives carriers the ability to send load tendering information to drivers even when drivers are not in the cab of their truck. The app interfaces with a fleet's transportation management software system to show the driver available loads with the ability for the driver to accept a load, decline a load and confirm pick-up and delivery right on their smartphone.
Other new features on the Transflo Mobile + app allow drivers to take color pictures and fill out electronic forms for accidents or claims. In addition, fleets now have the ability to two-way message drivers right on the Transflo Mobile+ app, allowing drivers to easily receive and send information to their fleets.
A new settlement function allows drivers to access information showing when they have been paid for a load. This feature will eliminate driver calls to find out whether a load has been paid or not and gives them a settlement history to view.
The user interface of Transflo Mobile+ is customizable; a fleet can add their own logo, indexing preferences and choose the functionality and applications they want their drivers to be able to use.
"Today's mobile technology landscape is complex and rapidly changing," said Frank Adelman President and CEO of Pegasus TransTech. "We are excited to pass this new functionality on to carriers and brokers. With the exchange of real-time information, Transflo Mobile + will help bridge the gap between the field and the office to shorten core business processes and boost efficiency."
Similar to the original Transflo Mobile, Mobile+ includes the functionality to scan and send documents. It auto detects and crops borders, enhances and compresses images and provides quality checks to ensure the highest quality document submission. The app also includes in-motion restriction to ensure safety of the user.
The Transflo Mobile+ app is part of Pegasus TransTech's line of integrated enterprise-grade document delivery applications that provide same-day access to documents. More than 150,000 drivers and carriers already use Pegasus TransTech mobile applications to scan and send documents electronically.