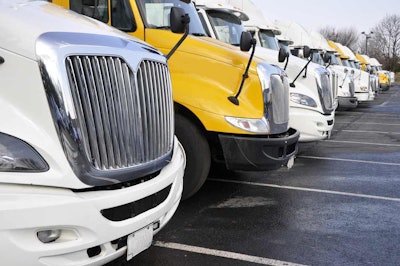 Two preliminary reports on Class 8 orders for June show strong year-over-year growth and a continuation of positive trends of healthy truck orders of late.
FTR says its June data shows a 41 percent increase in Class 8 net orders from last June, with 26, 255 orders in the month. FTR said June marked 17 consecutive months with year-over-year increases and the best June since 2005.
ACT Research pegs its Class 8 orders at 26,600, which the research firm said was surprisingly high, especially given "seasonal tendencies dampening expectations," said ACT's Kenny Vieth, president and senior analyst.
"That volume marked an improvement of 2 percent from May and 41 percent compared to year-ago June," Vieth says. "Seasonal adjustment boosts June's Class 8 order total to 29,200 units [and] 351,000 seasonally adjusted annualized rate. On that basis, June was the strongest order month since January."
Class 8 orders for the first six months of the year point to an annualized rate of 333,000, says FTR.
"June's numbers are significant, especially considering that order activity typically slows when summer starts," said Don Ake, FTR's vice president of commercial vehicles. "It wouldn't have been surprising to see Class 8 orders under 20,000 units for June, so a 26,000 level is outstanding.  FTR has been forecasting a very robust second half of the year and the positive June numbers confirm our outlook."