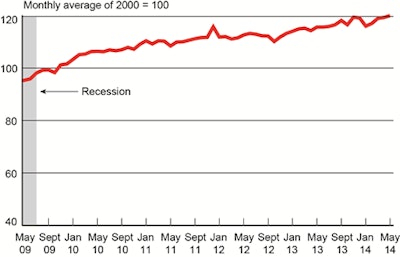 The amount of freight carried by the for-hire transportation industry rose 0.7 percent in May, according to the Department of Transportation's Bureau of Transportation Statistics' monthly Freight Transportation Services Index, which was released this week.
May's reading of 120.0 on the index is an all-time high, topping the previous record of November 2013's 119.4. Moreover, April's reading was upwardly revised from 117.6 to 119.3.
Increases in trucking freight drove the index's increase, as it "grew rapidly" for the fourth straight month. The growth in trucking was also spread across various segments, including dry van, flatbed and tank. Rail freight declined in the month.
May marked four straight months of increases in the index, too, following a bottom in January plagued by severe weather that impacted the overall economy negatively. The index has risen 3.4 percent in that time.
May's reading is also 3.8 percent higher than the same month last year.
The index measures month-to-month changes in freight shipments by mode of transportation in tons and ton-miles.