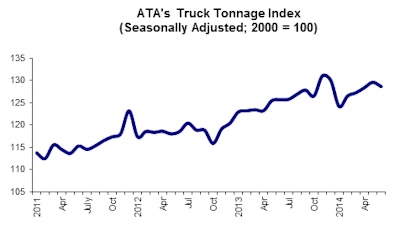 Truck tonnage as measured by the American Trucking Associations' monthly For-Hire Truck Tonnage Index fell 0.8 percent in June, according to numbers released this week by ATA.
The index is still up 2.3 percent from the same month last year — the second smallest year-over-year difference in 2014 and down from the 3.3 percent year over year increase in May.
Year-to-date, tonnage is up 2.8 percent from the same period in 2013.
June's drop comes after four straight months of increases, pulling the index up 4.4 percent in that time frame.
"June was one of those months where the data doesn't quite match up with the anecdotal reports from fleets," said ATA Chief Economist Bob Costello. "We had heard the freight volumes were good."
2014's second quarter, however, was brighter than its first, Costello said.
"Despite the small reprieve in June, the second quarter was much better than the first quarter," he said. "Tonnage increased 2.3 percent from the first quarter, which was the largest quarter to quarter gain since the first quarter in 2013. Compared with the second quarter in 2013, tonnage increased 3.2 percent, a percentage point better than the first quarter year-over-year increase."