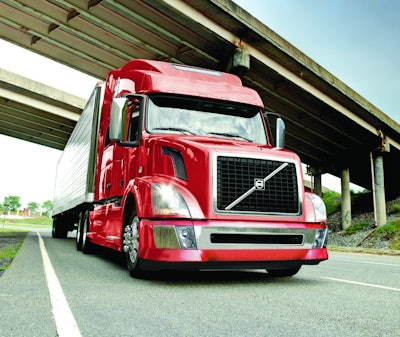 Stemming from a memorandum of understanding announced in March 2013, Volvo Trucks and Telogis have announced the availability of Volvo power units equipped with integrated fleet management services from Telogis. With the partnership, Volvo Trucks can now offer Telogis' full suite of offerings direct from the factory floor, including hours of service compliance, commercial navigation, vehicle inspection reporting, IFTA state miles reporting, route compliance and driver behavior.
Volvo Trucks said customers could start ordering trucks equipped with the integrated Telogis platform now. The platform will be available for customers with existing Volvo trucks equipped with vehicle connectivity (including Remote Diagnostics) on September 1, 2014.
"Remote Diagnostics offers value-added services for fleet customers," said Conal Deedy, director of connected vehicle services for Volvo Trucks. "With this partnership with Telogis, we are using the same connectivity to delver industry-leading services to our customers that are unique. Going forward, we now have the possibility to connect with other companies to deliver more value-added services based on data coming off trucks.
Telogis platforms available to Volvo Trucks customers include:
Telogis Compliance, which includes HOS compliance and driver vehicle inspection reporting;
Telogis Navigation, the company's real-time navigation system and storm response, and;
Telogis Fleet, which allows fleet managers a consistent way of viewing information about the fleet in one platform and driver dashboards.
Volvo Trucks customers will be able to purchase the Telogis Compliance/Navigation package or Telogis Fleet platform, or a bundle of both offerings.
"We will help Volvo Trucks customers improve fuel efficiency by creating driver behavior scorecards to find where inefficiencies occur, as well as fuel reporting and vehicle health reporting," said Kevin Moore, vice president of global OEM sales for Telogis. "It is about doing more with Telogis and your Volvo trucks."