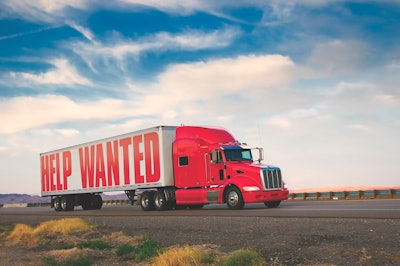 Note: This is the final part of a three-part series that examines the trucking industry's driver shortage and the impact it is having and will have on fleets, shippers, drivers, rates, capacity and the industry as a whole. Click here to see Part 1, which is an introduction to the series and details how shippers are preparing for a capacity crunch. Click here to see Part 2, which breaks down the challenges trucking companies face in finding qualified drivers.
Maybe, maybe not
The exception to the driver shortage rule could be small carriers, says David Owen, president of the National Association of Small Trucking Companies.
"We don't have a driver shortage yet, but if the end result of CSA is to imply that 35 percent of drivers are always fatigued, unsafe or unfit, it won't take many cycles to have to come up with a robot for a driver," Owen says. "It's a self-created shortage by the agency. I don't know if that was their goal."
At small truckload fleets, the turnover rate rose to 82 percent in the first quarter of 2013 from 76 percent in the 2012 fourth quarter, ATA reported. Turnover at small truckload fleets in the third quarter of 2012 was 94 percent.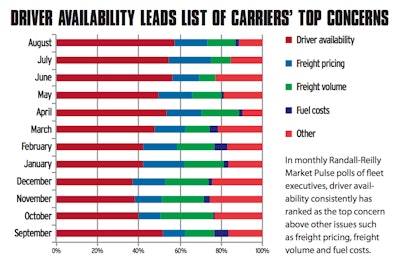 But Owen questions the validity and value of driver turnover data as it pertains to small trucking companies, where losing just one driver can result in a big number. More to the point, the smaller carriers in the organization report the lowest turnover rates – about 15 percent – and the rate climbs with the fleet's size.
"A lot of my members say they turn 'em over when they want to," Owen says. "The problem for the large fleets is they can find guys – they just can't keep them. They don't keep them because they cannot get them home every weekend and get consistent miles. It was true before, and it's true now."
The small carriers, Owen adds, routinely receive applications from qualified drivers, but they don't have open trucks.
"It's a different mindset down here," he says.
Likewise, many owner-operators are skeptical about company claims of a driver shortage, says Todd Spencer, executive vice president of the Owner-Operator Independent Drivers Association.
"A tight driver market would mean better pay, better rates, better service in the loading and unloading environment," he says. "It would include things that would encourage retention and recognize years of safe driving. If we had a tight driver market, you would see those things."
Instead, he says, "There's sort of a myth that floats around that because companies buy more trucks than they have drivers for, then they have a driver shortage. That's not a shortage. When a third or more shippers say they're having a hard time finding trucks, then we have a shortage."
As for truck rates and driver wages, Spencer says the rise of the transportation broker has taken money out of the pockets of carriers and truck drivers alike.
"We have a surplus of people who have recognized the way to make money in trucking is not in operating the truck – it is in arranging transportation," he says. "They are taking a slice out of the middle. They've skewed the revenue stream to where there's not really enough to encourage people to view driving as a career. It's not good."
Lessons learned
Carrier management seems to have learned some hard lessons – at least those truckers who survived the recession, says Noël Perry, with FTR Consulting Group. Along with anecdotal evidence, his analysis of new truck purchases confirms that carrier management is being careful with discretionary spending.
"Trucking executives are much more conservative than they've been in the past," Perry says. "They've been very conservative with respect to capacity, and very conservative with hiring drivers."
And that's a good thing, adds Tom Kretsinger Jr., president and chief operating officer of American Central Transport and current chairman of the Truckload Carriers Association.
"Historically, the first time truckers get a little bit of leverage, they decide they want to grow, and then they buy some trucks, and that solves the problem," Kretsinger says. "A lot of those folks went broke during the recession, and the ones that are still around are a little smarter. I think a lot of us are really zeroed in on how we can get more profits with all the risk and borrowing and potential lawsuits we have to put up with. How can we stabilize our drivers so they're not churning at 80, 90, 100 percent or more per year? That's the smart play."
The importance of driver recruiting, training and retention is "the universal issue in trucking that everyone agrees on," Kretsinger says. "The problem isn't with quantity – it's with quality.
"Things have changed," he says. "It used to be that just a few people would want to hire the best drivers and pay them. Now everyone wants the best drivers. If you're a good driver with a good record, there's a pretty high demand for you. The problem is there are not a lot of guys out there. For every one of those, there's 10 that don't look that good."
And the "good" news, while an immediate challenge, is that the shortage of skilled drivers indeed will keep a lid on capacity.
"If we go to 2.5 or 3 percent GDP growth, it doesn't sound like a freight train, but I don't think there will be enough trucks on the road to haul the freight," Kretsinger says. "Looking at the skill it takes and the sacrifice, a truck driver should be worth a lot more money in a logical world. But we're not in a logical world– we're in a supply-and-demand world. The pendulum will swing at some point."