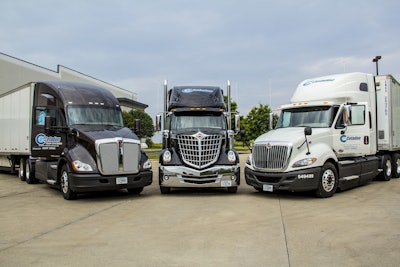 Celadon Trucking Services announced a substantial investment in its overall fleet with its recent purchase of more than 1500 new tractors. The Celadon order consisted of Kenworth T680 tractors from Paccar as well as LoneStar and ProStar models from International. The Kenworths will be used by the company's Expedited team operations, the LoneStar models by the Lease Purchase division and the ProStar tractors will refresh the company's core driving fleet.
"We value our partners out on the road and we want to provide them with a great tractor as well as supportive surroundings", commented Nate Roberts, Vice President of Specialized Services at Celadon. "The Kenworth T680 tractors are one of several steps we are taking to provide a great environment for our team partners."
Celadon has offered expedited services for a number of years, but recent acquisitions have quickly fueled a major commitment and expansion in this segment. Today, Celadon Expedited offers service to and from all points in the United States, Canada and Mexico. It boasts one of the youngest and most technologically-advanced fleets on the road today with the ability to track both tractors and trailers around the clock.
At present, the Celadon Expedited fleet is comprised of 200 teams in the US and anther 75 Hyndman teams in Canada, including a number of teams driving for Celadon's temperature controlled fleet. Over the past several months, Celadon has been able to add 3 – 4 teams each week as drivers graduate from the Quality Drivers Training School.
"These new LoneStar trucks will provide our Lease Purchase operators a one of a kind experience that cannot be matched anywhere else in the market place," commented Danny Williams, Vice President of Quality Companies. "Combined with our relationship with Element Financial Corporation announced earlier this year, we offer a lease program that's second to none."Element Financial designs flexible leasing packages that allow owner operators to take advantage of changing business opportunities that may emerge over time. Celadon will continue to provide ongoing maintenance and repair services as well as other administrative services for Element on the financed tractor units as part of the relationship.
"One of Celadon hallmarks has always been the newness of our company fleet, stated Celadon CEO and President Paul Will. "The key for us with these new ProStar tractors is to help recruit company drivers to our fleet as well as offer a reward to our existing company drivers."