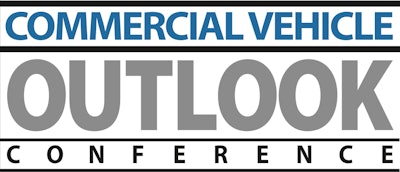 The fifth Commercial Vehicle Outlook Conference is underway in Dallas at the Dallas Convention Center, where speakers will talk economic outlook for trucking, regulations, driver retention, equipment trade cycles and how carriers can effectively implement technology.
CCJ is covering the conference every step of the way, both on CCJdigital.com and on Twitter. Click here to see coverage of the speakers and panels already in the books.
Here are the handles you should follow to keep up with the show live on Twitter:
@JeffCrisseyCCJ, Jeff Crissey, editor of CCJ
@JackRobertsCCJ, CCJ equipment editor
@By_Jason_Cannon, editor of Hard Working Trucks, Successful Dealer
@trucknewsjj, CCJ news editor
@MarlinJC, CCJ interactive media editor
Also, find #CVOC for the comprehensive Twitter coverage of the event or to join the conversation.
**
CCJ's daily newsletters Thursday and Friday will include comprehensive show coverage, too. Click here to sign up to receive them.