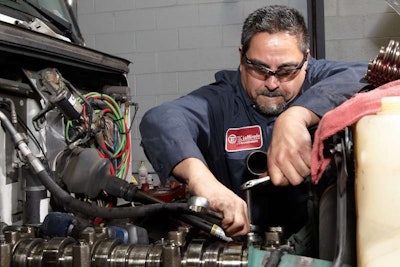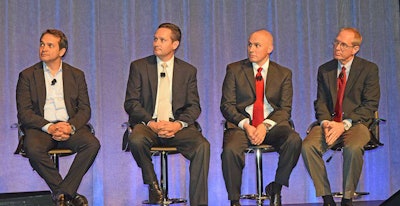 In 2014, a Class 8 truck is as technologically advanced as it's ever been, and it's among one of the most sophisticated tools on the road.
However, if new truck technologies are not applied correctly, they can be counterproductive for fleets looking to reap expensive fuel savings and safety benefits.
"When properly used and maintained, the new technology helps reduce the harmful pollution from heavy duty highway vehicles," says John Diez, senior vice president, Ryder Dedicated. "When not properly used, the technology can cause some serious pain for fleet operators."
Diez, speaking on a panel discussion at the Commercial Vehicle Outlook Conference in Dallas Wednesday, stresses the need to train technicians on new technologies as they are integrated into stock.
It's also important to realize that today's labor force is the most technologically advanced generation ever. And they have expectations and abilities that don't match those of industry veterans.
"The new technician is someone who is generally behind a computer looking at a diagnostic tree," says Dave Williams, vice president, equipment, Knight Transportation.
"Drivers are changing, that's why I think you'll see more AMTs," Williams says. "I have an 18 year old daughter who looks at a stick shift and doesn't know what that is, and I think it's going to be more common with the driver of the future."
Williams cited weight reduction; AMTs; safety technology; anything fuel savings; alternative fuels; economic driver retention features; high tech telematics; and remote diagnostics as trends on the rise on new equipment purchases.
Among the trends Williams see on the decline industry-wide are paper log-books, under-capitalized carriers and bad public trucking image.
One trend that is likely here to stay is the concerted effort to attract and keep younger drivers. Williams adds in-cab creature comforts will be more important than ever with driver recruitment and retention.
"The old hard-nosed truck driver of the past is not going to be the truck driver of the future," he says.