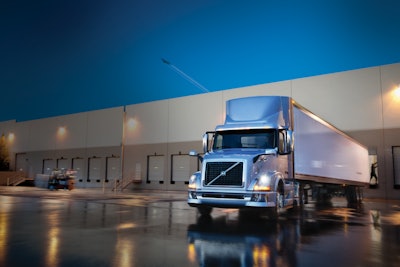 Spot shortages of trucks don't make for a national capacity crunch, but they are creating opportunities for small and medium-size trucking companies. Indeed, with affordable technology now providing fleet and freight management tools, carriers with a regional focus and expertise are expected to thrive as the large, national trucking companies struggle to find drivers – and turn down loads by the thousands every day.
As we discussed last week in reviewing a white paper from DAT Solutions, carriers and shippers must understand the dynamics of the spot freight market to appropriately price and plan. And the data is readily available from companies such as DAT and, as we'll talk about here, Internet Truckstop.
In a recent presentation with ITS founder and CEO Scott Moscrip, Stifel transportation analyst John Larkin credits the "real-time data" provided by the weekly ITS Market Demand Index for providing "a window into the trucking industry that we've never really had before."
"Scott and his company have really brought the industry into the modern age with some great technology," Larkin says.
What does the data reveal? An ongoing shift in the supply chain with some long-term implications, Moscrip explains.
"We've entered what I would call a vicious circle: There's more freight available – where the capacity isn't," he says. "What's been interesting is that, typically, in a year of this nature where there's so much extra freight lying around, capacity tends to leave the load boards and the spot markets because more of the freight gets hauled under contract. This year we're seeing an incredibly unique situation where we are actually seeing capacity move to spot market because rates are higher there – so it's almost a contract versus spot market rate battle.
"The spot market is becoming a larger fleet of capacity than it has ever been before."
And spot freight can be attractive because of the widespread adoption of load boards by carriers, shippers and brokers. Consequently, the market is becoming more efficient, Moscrip explains: When ITS was founded 19 years ago, 99 percent of the freight that was posted was for same-day pickup; today, that's only 25 to 30 percent. Similarly, truckers using the company's load board wisely have seen empty miles decline from about 15 percent to 5 percent.
"If the driver is looking for freight when he needs it, the load he needed has already been moved by someone else," Moscrip says. "We have educated drivers to be forward thinking: Before you leave with the load you've got, book the load that you need."
Moscrip doesn't see capacity growing. The large carriers, rather than buying new equipment with seats they can't fill, have become aggressive in their freight selection and are shifting less profitable loads to the spot market. Because of the opportunities on the spot market, fewer and fewer mid-size carriers are entering into contracts, particularly long-term contracts.
"Rates are going to drive capacity," he says. "It's a terrible thing to say, but it's absolutely true."
Indeed, the number of active trucking companies has swelled so far in 2014, with this growth shifting supply away from the largest carriers, according to an analysis of federal registration data by QualifiedCarriers.com.
In commentary published this week by the Journal of Commerce, QualifiedCarriers.com CEO Jeffrey G. Tucker suggests that "capacity is not the issue," and that there is plenty of reliable capacity to be found, but shippers are "looking in the wrong places."
The total number of active carriers increased by some 10,000 in the first eight months of this year, according to QualifiedCarriers.com. And the number has risen by nearly 31,000, or 20 percent, in the past two-and-a-half years.
Tucker encourages shippers to consider small and mid-size trucking companies moving forward.
"When you look at the big picture, the fact that big carriers are struggling to add drivers isn't particularly noteworthy," Tucker writes. "The American entrepreneurial spirit is alive and well in trucking."
And his conclusion is much like Moscrip's: "Busy is busy. Busy doesn't mean national shortages," Tucker says. "Shippers need to look for different solutions, and better utilize our dynamic and rich transportation marketplace. Those who do are reaping great rewards for their companies."
More broadly, Moscrip notes that government regulation continues to pressure carriers' bottom line — and the nation's economic lifeline. Even with record high rates, carriers aren't making record profits due to the high costs of compliance.
"Truckers make up 1 percent of all the vehicles on the road. If the same rules were applied to the ordinary car driver, there would be such an uproar in this country that it would be unstoppable," he says. "At what point do goods not show up on the shelves? At what point are we going to wake up and stop picking on the 1 percent with such a fine comb, and really look at the overall, holistic picture of what's going on?"
Regarding consolidation in the brokerage industry, Moscrip explains that the industry will continue to feature a number of "mega-brokers," but smaller brokers will continue to have a role. Some small brokers will still grow to mid-sized brokers, and mid-sized brokers will still be bought up by the large brokers.
"Our concern with the $75,000 broker bond is with barriers to entry," he says. "A lot of your truck drivers start brokerages when they get tired of driving trucks. A lot of little trucking companies are no longer getting brokerage authority. But the brokers that you would consider 'fly-by-night' – the ones that are there to perpetuate fraud – they have no problems coming up with the $75,000. It's the entrepreneur that's trying to get started who sees it a little more challenging."
The difference has become that the larger brokers are showing much more interest in technology than smaller companies. These large brokers are looking for long-term patterns and planning accordingly, compared to small brokers who continue to focus simply on the business of finding loads.
But the tools are out there.
For instance, ITS has recently teamed with FTR to provide market analysis by region and segment, including spot market forecasts to aid carriers and shippers in their planning.
And, again, if might quote myself: Good data's no longer an edge – it's a necessity.