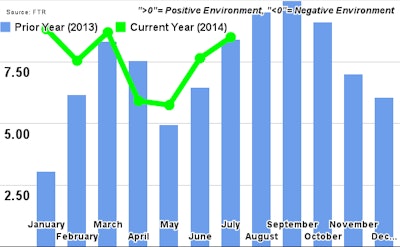 FTR's Trucking Conditions Index increased in July to a reading of 8.49, meaning a capacity crunch is putting upward pressure on rates, FTR says.
The index could move even higher — signaling even tighter capacity — if the economy continues to gain steam this fall, FTR says.
Truck utilization has stayed at record levels, FTR says, and any additional growth will strain capacity further and drive up shipping costs, the firm says.
"When looking at the truckload market for much of 2014 it has been a tale of two markets with spot activity very strong, especially in rates" says FTR's Director of Transportation Analysis, Jonathan Starks. "The public announcements of strong driver pay increases by fleets are a testament to this fact. Despite easing over the summer, spot rates are still elevated versus last year. Keep an eye on spot rate as we head into September as they will be an early indicator of capacity shortages and stress in the system."