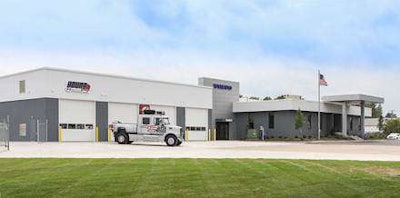 Volvo Trucks recently increased its service capabilities in the Northeast region of the U.S. with the expansion of the Young Truck Sales facility in Canton, Ohio.
 The full-service dealership, located on 16 acres on Shepler Road just off Interstate-77, includes 30 service bays and $800,000 in parts inventory. A separate on-site building dedicated to servicing natural gas-powered vehicles is the first of its kind open to retail customers in Ohio. The dealership invested $4 million in the expansion.
"I am greatly impressed by the expansion of Young Truck Sales and the increased level of service and support they will provide to Volvo customers," said Göran Nyberg, president, Volvo Trucks North American Sales & Marketing. "The strength of our dealer network and the capabilities at each location continue to play an integral role in maximizing uptime for our customers."
Young Truck Sales added 16 service bays, increasing capacity by 100 percent. Eight of the new bays are located in the natural gas facility for a total of 12 bays in that building. The facility is certified for natural gas, cryogenic gases, diesel and gasoline. Young Truck Sales is the first independent authorized as a warranty provider in the U.S. for Agility Fuel Systems. The facility currently is open Monday through Saturday 6 a.m. to 6 p.m., and will be open Sundays once a second shift is added in January.
"We are proud to start our 60th year by unveiling our renovated and expanded Volvo dealership location," said Craig Young, president of Young Truck Sales. "Young Volvo's mission statement is to 'make our customers successful,' and we feel that having the service and repair support for our customers adopting natural gas power will be an integral part of us fulfilling our commitment."
Volvo Trucks dealers across North America have invested $400 million since 2010, including more than 50 new facilities or significant renovations and more than 25 planned or underway. The investments have resulted in a 50 percent increase in technicians, including more than a 150 percent increase in Volvo master technicians. Now, more than 25 percent of Volvo technicians are certified master technicians. Service bay capacity has increased 34 percent, while parts inventory has increased 37 percent, and the number of parts department employees has increased 68 percent.