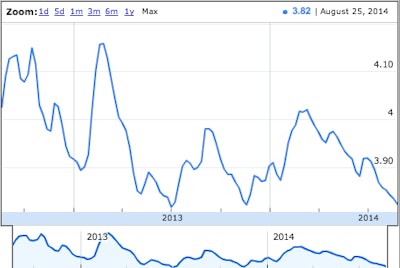 The national average price for a gallon of on-highway diesel fell 2.3 cents in the week ended Sept. 29 to $3.755, according to the Department of Energy's weekly fuel price report.
Other than a week earlier this month with no change, that's the 11th consecutive week that the price of diesel has fallen, pushing the national average price to its lowest point since mid-June 2012.
The price of diesel has dropped 16.5 cents since it began its slide in early July.
The national average price is 16.4 cents lower than the same week last year, the DOE reports.
All regions in the U.S. saw a price drop too in the most recent week, with the West Coast (less California) leading the way with a 5.3-cent plunge.The West Coast (including California) saw a 4.2-cent drop, and California had a 3.-4 cent drop.
The Rocky Mountain region also had a notable decline, 3.5 cents.
California again had the country's most expensive diesel, $4.007, and is the only region above the $4 mark.
The Gulf Coast had the nation's cheapest diesel, $3.685, followed by the Midwest and Lower Atlantic's $3.694.